Paint Sponging Finish "Faux Brick" on Our Kitchen Backsplash
by Melissa
(Kansas)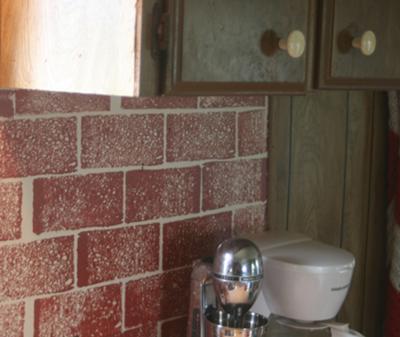 Faux brick finish created with a kitchen sponge
This sponging paint finish is done by using a rectangular kitchen sponge, and is very cost efficient.
Our kitchen looked terrible before, and the old paint was stained from the previous owner's who apparently didn't care! We did care so we wanted to improve the kitchen without spending a lot of money, and we wanted to be able to do it ourselves.
***z-adsense-med.shtml***
This sponging method was picked because it is quick and easy, and produces a wonderful finish, and we were capable of doing it easily, without a lot of experience.
Our goal was to upgrade the look of our kitchen for a minimal cost, but also to integrate some color into our environment. We selected this color because it was warm, and the red tone also worked well to imitate brick.
Our living room has a lot of darker, maroon red in it, and overall, this decorative finish really tied to two areas together and made them seem more cohesive.
The work only took us about 30 minutes to do the backsplash behind the stove as well as the pictured area surrounding our morning coffee area.
To get started, all you need is the paint, a square sponge, some painter's tape and a paint tray. It works best if the sponge is the size of the brick that you want to appear on your wall.
Make sure to clean your area before starting. After that, the most important part of this method succeeding in taping off all of the trim boards in the area, to avoid mess, and keeping straight lines.
You can use chalk to mark out guidelines for the pattern beforehand, so that your lines do not become crooked. You also want to make sure that you are doing a staggered pattern, or making sure that every brick does not line up.
We are very happy with the end results, and the amount of effort and money it took to achieve.
***z-c20-links-sponging-projects.shtml***