Paint Sponging Finish on My Living Room Walls
by Crystie
(Canton, Ohio, USA)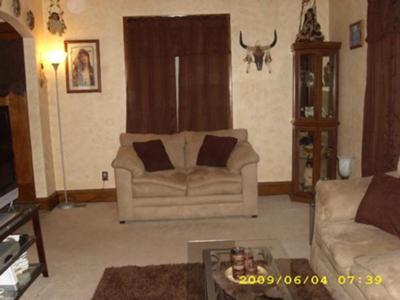 Sponge painting walls is not hard!
I decided to try paint sponging in my living room because I didn't want a solid color. I wanted to add a little texture and dimension to the room rather than having a flat look. I didn't want a color that would be too bright.
We mainly use our living room for watching television or entertaining. So I didn't want the walls to be the center of attention. I decided to go with an earth tone.
***z-adsense-med.shtml***
So after days of thought, the base color that I chose was "Desert Sand" and the sponge color that I chose was "Creamy Neutral". The colors are both neutral, earthy tones and I think they compliment my furniture and carpeting well.
I had never tried sponge painting walls before, so I searched online. I read as much as I could about sponge painting techniques and the materials that I would need. I wanted to get the look of a professional job without hiring a professional.
It turns out that sponge painting isn't nearly as scary as it seems. I tried the technique on a piece of scrap wood to get a feel for it first. Then when I felt confident enough I started on my living room walls.
I love the look! I am very happy with the results. For a first try I think it turned out exceptionally well. All of my friends and family love the look and can't believe I did it myself.
If you like the look of sponge painting don't be afraid to try it yourself. I never imagined that I could do a semi-professional looking job myself. Since I can't really afford to hire a professional without it putting a strain on my budget I decided to try it myself. I'm glad that I did.
I'm just as happy with the results as if I'd hired someone, but I saved a large amount of money. And I actually enjoyed it.
***z-c20-links-sponging-projects.shtml***