Shades of Green Paint
Colors for Your Walls
Shades of green paint are a happy and varied bunch of versatile hues. Often associated with nature, green paint colors are as diverse as nature itself...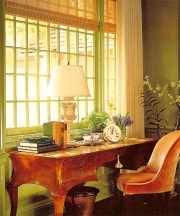 Colors of balance and harmony, shades of green paint are located right in the middle of the spectrum. And while most people cosider green a cool color, in reality it can be warm, cool or neutral.
For example, a yellow green color (olive green) is warm and earthy, a blue green color (sea green) is cool and watery, and the temperature of a true green (grass green) falls somewhere in between.
Green is the easiest hue for the eye to see. Nature's most dominant color, it symbolizes growth, comfort and plenty, and helps us feel balanced and grounded.
Most shades of the color green work well inside a home, and combine well with other colors.
Just look at Mother Nature who uses green as a backdrop for creating all kinds of beautiful color combinations! You too can't go wrong when using this neutral of nature as a basis for a color scheme in your home.
TIP: if you have a lot of greenery right outside your window, you can make it a focal point by painting the walls and window trim a natural green color.
This will eliminate the visual barrier and help blend your window with the foliage outside - a great way to bring the nature in!
Earthy Shades of Green Paint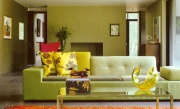 Established over time, some green paint colors are timeless. For example, sage green, olive green, moss green and hunter green have really withstood the test of time and are considered safe colors for painting and decorating your home with.
Because they are so abundant in nature, they usually look very undemanding and neutral in home interiors.
To dress them up, just add pops of stronger colors - purple, violet, yellow or complementary red. To dress them down and create an earthy color scheme, combine them with muted golds, muddy oranges, browns and stained wood finishes (note that green walls will help bring out red undertones in natural and stained woods).
Deeper greens are stately and dignified - they are a popular choice for studies and libraries.
To prevent your green walls from making the room too dark and gloomy, it helps to keep the flooring, ceiling and furniture light. Also, consider glazing the walls - a shiny finish will reflect light and brighten up the color.
Yellow green colors (chartreuse) are not always easy to work with, because they can look sickly and unappealing in certain lights - so it's important to always test them before painting.
Fresh Shades of Green Paint
Unlike the earthy green paint colors which are somewhat muddy and muted, these greens are clean and pure, with white added to them.
Without demanding too much attention or shouting at you, fresh greens add color and help create an atmosphere of optimism in a room. These shades look great with other clean hues - peach, rose tones, lavender, blue, yellow and white.
Because green color is gender neutral, pastel greens are often used in nurseries. Kitchens painted a fresh green appear healthier, while fresh green walls in a home office provide a relaxing backdrop to tired eyes.
Bright Shades of Green Paint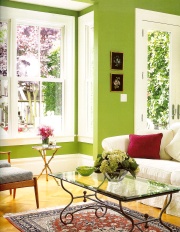 Intense grass green, lime and apple green color - these shades are pretty shocking and daring!
Used sparingly, they can add high energy, punch and a burst of color to an ordinary room. But while most popular in contemporary decors, touches of bright green colors can help you update even a traditional setting.
These shades work great with pinks, violets, blues and yellows. Just remember that a bright green color scheme requires a lot of neutral shades, black and white to provide relief to the eye and dilute the intensity.
Also keep in mind that in bathrooms, acidic greens are not recommended. They can "drain" the color from your face, cast an unflattering green tinge on your skin and make you look unhealthy in the mirror.
Green Room Projects From Our Visitors:
Here are some great green room photos and stories submitted by other visitors to this page - take a look and don't forget to leave a comment!

Get a Quote for
House Painting:

See also: