Shades of Pink Paint
Color for Your Walls
Pink paint colors are not only for little girls' rooms! Pink walls can be appropriate for adult living spaces as well - when the shade is right...
Although pink paint colors are technically tints of red, they are so versatile, they deserve their own category!
The color pink can be too feminine for some tastes, but if anything, it is full of personality!
Ranging from soft - to sophisticated - to fiery, it pairs well with many other colors.
Note that pink is most successful when used in a matte, flat, or even chalky finish - glossy pink surfaces tend to look too "sugary", and sometimes almost sickly.
Sweet Pink Paint Colors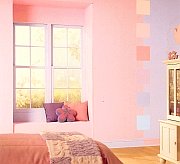 Pale, pastel pinks bring the word "pretty" to mind - these shades are always associated with babies and little girls. Using them in the home can be tricky, because they have a very strong feminine appeal.
But aside from girls' rooms, soft pinks are often used in bathrooms. They have good reflective qualities, provide a warm cast and give skin a healthy appearance.
If you love pink walls, but want to downplay their feminine look, you can distract the eye from the walls by adding stronger greens, blues or purples to the room through fabrics, colored furniture and accents. Dark stained furniture and woodwork can also visually "ground" and de-feminize this color.
Sophisticated Pink Paint Colors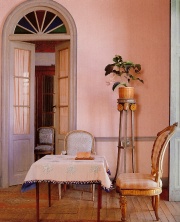 Blush and flesh tones, dusty rose, faded peachy-pink, dusky coral - these are grown-up versions of pink. They are slightly "muddier" than baby pinks, and definitely not as clean and crisp.
Subtle and sophisticated, muted pinks have a more mature look - therefore they work for a variety of rooms. Because of their calm and reflective qualities, they are suitable for quiet areas - studies, libraries, reading rooms and bedrooms (powdery pinks are said to induce sleep).
Surrounded by gray, taupe, brown or navy blue, dusky pink walls can look almost neutral. And if you add soft green accents and white lace to your pink color scheme, you will get a classic romantic, nostalgic look.
Hot Pink Paint Colors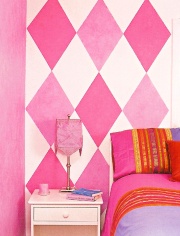 Fuscia, magenta, shocking pink, ultra pink, kinky pink - a hot pink color by any other name is just as hot!
These strong hues are very energizing and active - much like reds. They bubble with life and energy, but can be too stimulating and even irritating when used in large amounts. Bright pinks are not easy on the eyes, and shouldn't be used in spaces devoted to relaxation - even in accents.
Looking most appropriate in contemporary settings, hot pinks don't have the feminine and babyish qualities of pastel pinks.
And if you combine them with neutrals and pops of other strong colors like red, yellow, orange or purple, a positive and uplifting atmosphere in the room will be guaranteed! Just remember the matra: moderation, moderation, moderation...
| | | | | |
| --- | --- | --- | --- | --- |
| | | | | |
Pink Room Projects From Our Visitors:
Here are some great pink room photos and stories submitted by other visitors to this page - take a look and don't forget to leave a comment!

My Daughter's Pepto Pink Bedroom Color Scheme!
We were completely remodeling the house we had just purchased and decided to let the kids choose their own paint colors. Their dad was a little worried …

Peach Wall Color in My Mother's Room
My mother was recently living in a nursery home, but after a little incident, I decided I didn't want to rely on people who I knew nothing about to take …

Earthy Pink Paint Color on My Living Room Walls
I chose this muted/earthy shade of pink for my paint color, because I was looking for something different and unusual. I didn't want my room to look like …
Looking for a Home
Painting Contractor?

See also: