Painting Blue Walls?
Considering blue walls for your room? Shades of blue color can be bright and breezy, moody and elusive, or deep and mysterious. See which one is right for painting your home...
Different Shades of Blue Color:
Which One is Calling Your Name?
Blue paint colors are often associated with water and sky - both calm elements, easy on the eyes and nerves. No wonder blue is voted the world's most popular color!
The color blue is very abundant in nature, and it goes with everything.
If you base your painting and decorating blue color schemes on the naturally occuring hues, you too will get a pleasing result. Whenever you reproduce one of nature's blue color palettes, the colors always work - because they feel at home with one another.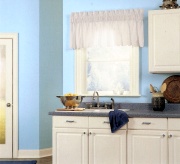 Blue walls are most often found in homes near water or in hot climates, but some shades are appropriate for any location and environment, and will match any mood and purpose.
Blue shades can be warm (navy blue color) or cool (ice blue color), and will often change their temperature depending on the colors you surround them with.
For example, pure white trim will bring out the coldness of your blue walls - so if you want a warmer effect, paint your woodwork an off-white or cream color instead.
Classic Blue Walls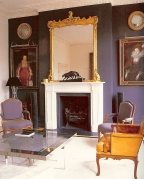 Certain shades of blue color remind of tradition, timelessness and comfort - like a favorite pair of worn blue jeans.
For example, country blue, denim, french and navy blue never go out of style. They mix well with other colors (from bright to subtle), and work great for homes in both southern and northern hemispheres.
To reinforce the sophistication of these shades, pair them with neutrals, creams, golds and browns, and avoid bright whites. Even the traditional nautical palette will look more classy if you combine a navy blue color with a soft cream or even sand, instead of a pure white.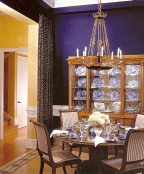 Deeper shades of blue don't feel cold, especially when used with earthy reds and red-toned woods. They work best in rooms with light flooring, furniture and ceilings.
Rich hues like indigo blue can create a sense of intimacy and are said to induce sleep - they are popular in bedrooms for this reason.
A midnight blue paint color is also appropriate for dining rooms - where it will look its best with soft lighting or candles, gleaming silverware and off-white table linen... a mesmerizing effect!
Bold and Bright Blue Walls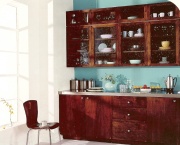 Some blue shades seem to POP! and have a life of their own.
Cobalt blue color, periwinkle, the color turquoise - these bright and highly saturated hues are most at home in southern climates. They need the sun to bring out their brightness and to appear alive.
You see, what looks fabulous in a Caribbean villa does not readily translate to a London or New York apartment. In the northern hemisphere bold blue paint colors can look very cold and out of place. So instead of using them on the walls, incorporate them into your decor through accents.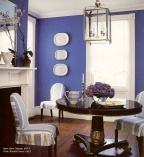 Because these hues are very stimulating, they are popular in rooms with lots of activity and movement - especially for painting kids' rooms and home gyms.
To reinforce their tropical flavor, combine them with reds, corals and yellows.
Earthy browns, sophisticated grays and dark woods, on the other hand, will add balance, provide a calming counterpoint and make the color scheme easier on the eyes.
Soothing and Peaceful Blue Walls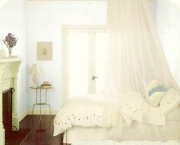 Sky blue paint color, robin's egg blue, sea blue (blue green color) - these shades are definitely inspired by nature. Tranquil and calming, they are easy on the eyes and create an atmosphere of peace and well being in a space.
Often referred to as "spa colors", these blues are most appropriate for painting bathrooms and bedrooms.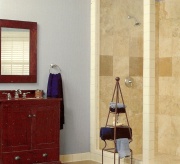 When paired with pure white, they look fresh, crisp and clean. Silver and gold metallic finishes look stunning against pale blue walls as well.
For a more natural and "moody" color scheme, use gray-based blues and combine them with beiges, taupes and off-whites.
Such cloud-like blues look great next to natural finishes - tile, stonework and red-toned woods.
Because these blues tend to appear cold, they need to be balanced with warm accents in gold, peach or salmon.
Blue Room Projects From Our Visitors:
Here are some great blue room photos and stories submitted by other visitors to this page - take a look and don't forget to leave a comment!

Need a FREE Quote for Painting?

See also: