Painting the Main Area and Need Color Ideas
by Al
(Texas)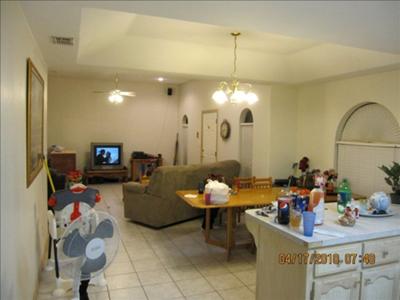 The main area to be painted
Hello everyone, I want to give my parents a little help to get some color in their house.
The furniture in the living room in this picture is gone and there is new furniture on the way that has similar but darker brown and natural wood colors.
***z-adsense-med.shtml***
The prospective you see is from inside the kitchen. I would like to paint the living room, dining area, and kitchen area.
The dining room walls have no breaks as they lead into the kitchen so I guess that means that the kitchen will be the same color as the dining room which is fine, but my main concern is breaking up the living room from the dining room to make the space look not like one giant kitchenlivingdiningroom like it does now.
I'm looking at several paint colors already but the gold, builder grade, fixtures and pinky-beige, white washed, wood cabinets and trim are throwing me off.
The blue and pinkish streaked and dark grey grouted tile, along with the similar laminate countertop don't help either.
My main goal is to make it look as natural as possible with the current fixtures and finishes and as I help them to upgrade, we will move on to more exciting colors.
Here are some of the colors I'm looking at for the living room (Sherwin Williams):
- Lacewing 6729,
- Great Green 6430,
- Verdant 6713,
- Saguaro 6419,
- Parakeet 6711,
- Midday 6695 (not sure how I feel about the yellows).

I would like an accent wall but I don't know if it's the best idea. As you may have noticed I love the greens with the darker brown of the new furniture so I'd like to stay close to that as possible.

For the dining and kitchen I have zero ideas. I wanted a dark deep red like SW Rookwood Red 2802 but I don't know if it goes well.
Mostly trying to stay away from purples here but I'm open to anything.
Reply from Paula Pavlik-Douglas (our contributing expert):
Al,
You could paint the cabinets and trim. Actually, you can
even
apply products to change the counter top
.
Check in your local Home Depot, there's a couple of different brands and I don't think they're real hard to use, but they have pretty specific instructions.
So, that just leaves us with the tile... which can also be painted, but I would advise against it.
Green is great neutral. It's everywhere, it's nature. It can be anything you want it to be, lively, calming, etc.
But in your case, I think it should be a little grayer than the greens you listed. You still have the pink in the tile at least to content with, and green will make the pink in the cabinets and tile even pinker.
I noticed you live in Texas, and the light is usually stronger there and therefore you can use a stronger color. So, I'm going to suggest a direction and you'll fine tune it.
Try a slightly red-based beige/brown for the living area, like SW Practical Beige 6100:
... or even Nomadic Desert 6107:
This kind of a "clay" color will help blend in the tile so it won't look too pink. It also helps that it's a little grayed.
TIP:
When you want to see less of a color, use a color closer to it - so it disappears a little and becomes less noticeable.
I really think the dining room/kitchen will have to be the same color; there's no place to break that wall and painting a line where there isn't one (even a straight taped line) is a mistake.
So, let's put the green in the dining/kitchen room like SW Grassland 6163:
I think these two colors which are close in value (lightness/darkness) will define the space without cutting it in half, and help transition into the updating you want to do.
Also, there's a nice tray in the dining room ceiling. Put a little color in there! Maybe a pretty Texas blue.
And by all means, paint those cabinets and trim white - chose a white that will blend with the tile.
***z-c20-links-interior-color.shtml***