Using Shades of Brown
Paint Color on the Walls
Brown paint colors are earthy, natural shades that most people respond to positively in a home. They are very adaptable, and work well with any light in any location.
The color brown is traditionally associated with warmth and comfort, solidity, reliability and gravity. And what home doesn't need a sense of gravity, of security?
But homes also need brightness and air, and that is why all-brown color schemes usually look drab, depressing and heavy.
So the secret of working with brown is: begin with brown, but don't end there!
What Colors Look Good With Brown?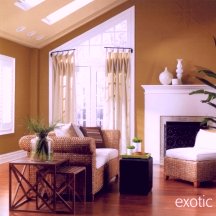 Brown colors are very versatile - they can look as traditional or as modern as you choose.
It's all in the mix.
For example, brown plus brick red, earthy green or country blue are classic and timeless color combinations.
The same color combos can look very hip and trendy if you simply use hot pink, lime green or turquoise instead.
Using Brown Paint Colors in a Home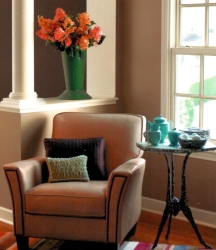 No color suggests hominess more than brown. This hue can be warm (those shades with reddish and orangey undertones) or cool (gray and green-based browns).
Warm browns look more casual; their strong positive associations with food (brown bread, brown sugar, brown eggs, chocolate, coffee, etc) make them a good color choice for any eating area.
Cooler browns look more formal and are better suited in masculine decors.
Lighter, mid-tone brown walls create a cozy atmosphere that seems to hug and protect you without being too dark. They look restful and give off a sense of well-being.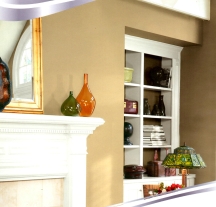 These shades don't shout their presence, don't dominate the space. For this reason, they provide perfect backdrops for wall art collections, and work great in living rooms, bedrooms, reading rooms and home libraries.
Dark, rich brown paint colors add drama to a room and have an effect similar to black, but not as harsh. They work best in small spaces such as powder rooms, on accent walls, or in rooms with little visible wall space. Deep brown walls also require light ceilings, flooring and furniture to look balanced.
When working with these hues, it is extremely important to use the right form of paint. Anything glossy or shiny will not only look unnatural, but will also reflect the light, making any space appear smaller. So choose flat/matte finishes for a velvety, fabric-like effect on the walls.
Want to get your hands on the best 8 brown shades? Check out the Paint Color Cheat Sheets.
Brown Room Projects From Our Visitors:
Here are some great brown room photos and stories submitted by other visitors to this page - take a look and don't forget to leave a comment!


Turquoise Blue and Brown Paint Color Scheme
When we moved into this new house, every single room had wallpaper border. Ugly, old, peeling, dated wallpaper border. We wanted to paint, so the process …
Need a Quote for Home Painting?

See also: