Painting Stripes On
Wall Examples and Ideas
Need ideas for painting stripes on, wall examples and inspiration? Then here are the most popular stripe varieties:
Most Popular Ideas for
Painting Stripes on Walls
The decorative effects you can achieve when you combine latex paint and painter's tape are limited only by your imagination!
Vertical Paint Stripes - that's usually the first image that comes to mind when we think about wall stripes.
They stretch the apparent height of the surfaces painted, so use them on the walls whenever you need to create an illusion of higher ceilings.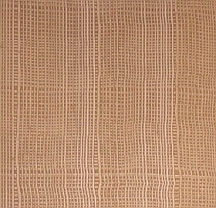 Horizontal Paint Stripes make a room seem more expansive - similar to how a sweater with horizontal stripes makes a person appear broader.
You can use this effect to your advantage in small, shoe-box rooms - but remember that horizontal bands look rather casual and are usually not appropriate for formal spaces.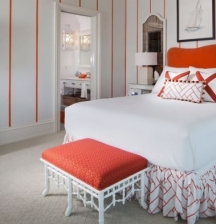 Diagonal Paint Stripes look most at home in contemporary decors. And because they create an illusion of movement (because of their direction), these stripes are best used only on small surfaces such as accent walls, columns or furniture.
In fact, the effect of these stripes is so powerful, they can even make you dizzy and disoriented if used on all the walls in a room.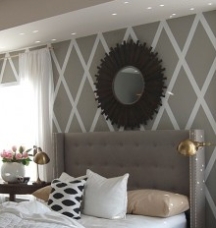 Vertical and Horizontal Stripe Combination - yes, they can be used together at the same time!
For example, in this photo, a light green paint was mixed with a glazing liquid to produce a delicate plaid design on the walls that looks like sheer gingham.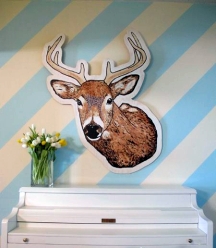 Basketweave Stripe Patterns - this type of stripes usually requires no taping. It is an imperfect, imprecise, criss-cross paint striping technique that is supposed to imitate natural fibers.
Depending on the color combination used for the technique, the finish may show more texture than stripe definition.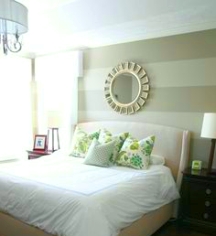 Pinstripes - these are usually created by using a special squeegee tool.
But in this example, these charming double stripes were hand-painted over the pensil marks.
No taping needed here either, but you do have to have a steady hand.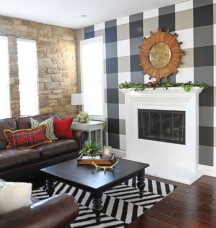 Blocks and Grids look like squares and rectangles, but the instructions for creating them remain the same: measure, plan, mark, tape and paint.
The width of the grid lines is determined by the width of the tape you use; the color of the grid lines comes from the color of the base coat.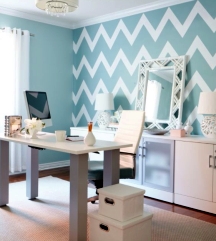 Zigzag and Chevron are the most advanced stripe patterns of all - not for beginners.
They usually require 3 times as much time to plan, measure, outline and paint than most other stripe types. But the end result is impressive indeed!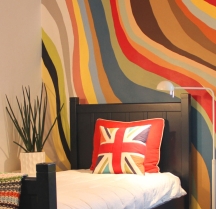 Decorative Finish Stripes - painting stripes on walls using a faux finish instead of regular solid paint colors is definitely not for the faint of heart.
But this option is the ultimate when it comes to adding personality and individuality to a room. Wall stripes just don't get more custom than that!
Need a House Painter?

See also: