Stylish Paint Color Ideas for Our Brand New House?
by Jessica
(New York)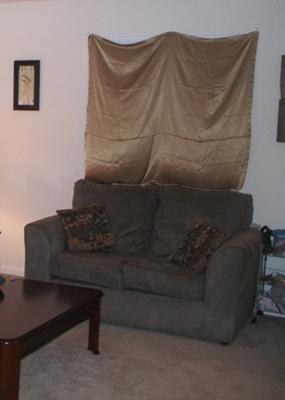 Trying to make our brand new house look stylish,
on a budget
Hi Everyone! My husband and I just bought our first home (brand new). So now we are trying to figure out what colors to paint the rooms, to match our existing furniture / curtains.
To start:
The living room is one of those open concepts, though extremely large, and it flows into the dining room.
***z-adsense-med.shtml***
We have sage green living room furniture, and gold curtains. The carpets are a smokey gray.
I was thinking that I wanted to paint the living room a red/ burgundy, but the more I got to thinking about it, the more I started to think it was probably going to be a huge mistake.
Then I started thinking about maybe painting 2 walls like a toasted almond, and 2 walls red (or maybe even fiery brown?). I just have no clue where to go with this living room - and my furniture (and curtains).
Please help, ANY and ALL suggestions appreciated for living room colors!! THANKS!!
I think I'm OK with the Kitchen, I plan on putting in a black and white tile back splash, painting the kitchen gray, and using my red curtains. I think it'll work.
We have 1 gallon of Ralph Lauren Cranberry paint, so I'm considering painting one wall of the breakfast nook area this color. If not, I'll just paint the whole area gray, and use the cranberry color for the one of the bathrooms. How does this sound?
Sorry about the picture! We haven't moved into the new house yet, so I had to tack up one of the curtains as the rest are in boxes, just to show the color of the curtains for the sake of this photo!
Thanks!
PS:
This photo was taken in the apartment. The house's carpets are a brownish grayish color, if that matters in deciding paint colors - though I'd prefer not to decide colors based on this carpeting as its throughout the whole
house!
Yelena's Response:
Hi Jessica,
I agree that red might be a mistake for your Living/Dining room area.
Bold colors like red are best used:
- in small amounts (accent walls, accessories),
- in small rooms (e.g. powder room),
- or in rooms where you don't see much wall space (for example, rooms with lots of large windows and/or lots of wall art or furniture against the walls).
Because of the size of your room, red walls can really overpower both you and your decor. And in an open floor plan like yours, red may also interrupt the flow of colors, creating a need to re-paint your hallways and other adjoining areas with a coordinating color.
But I can tell that you really want to use some red in your home. And I like your idea of using the red paint in your bathroom and for the accent wall in your kitchen (of course, if the kitchen lends itself to an accent wall).
Then, you can link your kitchen and bathroom to the rest of the open area with some
red accessories
- that way everything will have a common thread and look connected.
Ok, now what about a neutral paint color?
The toasted almond/tan you mentioned will work just fine here, but you might not like how it transitions to the gray in your kitchen, where the wall colors meet at the corner (gray plus tan is not the best color combination, and is often difficult to get right).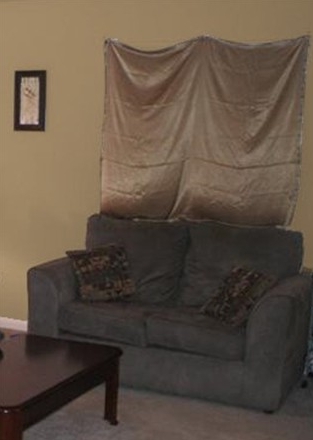 So what do I recommend then? A sage green, and here's why:


it coordinates beautifully with your furniture and curtains


it looks neutral, but still adds color and interest


it is grayed down, so it will work with the gray in your kitchen


it will enhance the red accessories you will add later, and vice versa (because red and green are complements)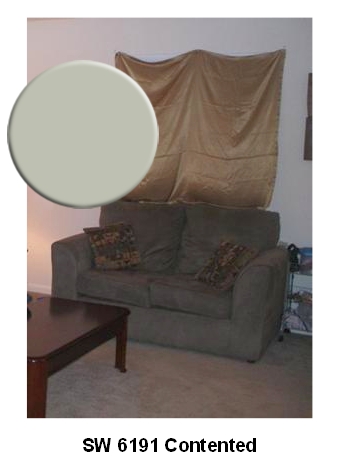 I hope this helps, and enjoy your new home! :)
***z-c20-links-interior-color.shtml***