Kitchen Paint Color Ideas:
Where to Find Inspiration
Creative kitchen paint color ideas can come from many places, but some of the best are home decorating magazines, home improvement and paint stores, and even your existing kitchen design colors!
So... you've finally decided to give your kitchen a makeover with a new paint color. But what color? Where do you even begin to get ideas? The answer may be closer than you expect.
Home Decorating Magazines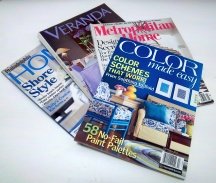 Magazines are one of the best places to go for inspiration when you need kitchen paint color ideas.
Photograph after photograph of all kinds of different painting and decorating styles will provide a visual feast for your new kitchen color scheme to draw inspiration from.
With all the images to look at, you don't have to imagine how two colors will look together – it's right there on the page!
This is especially beneficial for those that don't have an eye for color, and haven't the faintest clue as to what colors pair well together.
Simply go through the pages of a home decorating magazine of your choice (preferably one that showcases kitchens), and flip through the pages until you come across a photo that particularly draws your attention.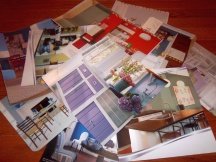 Whenever you see a photograph of a sample kitchen that you like, tear or cut out the page.
Do this for a few more photographs, until you have a small stack of pictures that you can use as inspiration.
Once you have the small stack of pages together, go through them and note what it is about each photograph that interested you. Was it the neutral monochromatic color palette that enticed you? Or perhaps the bold red accent wall? Or maybe it was the serene blue walls set off by the traditional white of the crown molding?
Figure out what it is that you like about each photo, and incorporate some of those ideas into your kitchen.
Home Improvement and Paint Stores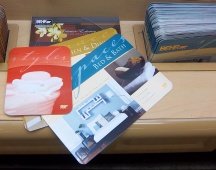 Another great place for kitchen paint color ideas is right at the source - the paint store or department.
This may seem obvious, but ironically, many people wouldn't think of going there for ideas. To many, it's just the place where you pick up the cans of paint. Sure, they have rows and rows of paint buckets, but they also have many other tools for choosing the right paint color for any room.
Though not as extensive as having hundreds of magazine pages, paint manufacturers also provide brochures that showcase pictures of rooms with professionally selected color schemes to give you an idea of how certain colors can look once applied to a wall.
The benefit of this is you can know exactly which brand that specific paint color is produced by, as opposed to magazine images where that information might not be available.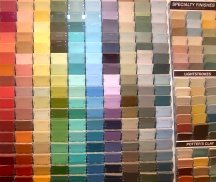 However, the item of most value that the paint store or department can provide are the paint swatches.
Paint swatches are sample cards that show a gradation of a color within a family; for instance, reds, or yellows, or blues. These strips of cards are available in hundreds of shades, tints and tones and are handy when you need to compare different color "candidates" side-by-side.
This is important and helpful because one color can look terrible next to another, but absolutely beautiful next to yet another shade even in the same color family.
The reason for that is each color has different undertones that can be made more obvious beside certain hues, as well as under certain lighting conditions.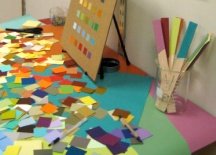 So once color selections are made, check the paint swatches next to each other to confirm that the colors you have picked for your home complement each other.
Don't wait until the walls are painted to find out that the Sunny Yellow has turned to a Dirty Yellow next to what had been the Perfect Green.
Finally, the paint store or department also has another added benefit to offer: they can custom create a color to match virtually any item you bring with you, so your possibilities for finding and fine-tuning your choices here are are pretty much limitless.
Your Existing Kitchen Design Colors
The last place some people would think to look for kitchen paint color ideas is... right in their own "heart of the home". After all, they want a new, improved kitchen.
But unless you are doing a complete renovation, your existing kitchen decor and finishes are actually a very important piece of the puzzle.
The paint color you choose ties the room together, but it is all the separate elements - cabinets, countertops, window treatments, flooring, wall decor, and lighting - that combine to make up the kitchen as a whole, and you want to make sure that it forms one cohesive unit.
You want to make sure your paint color will tie in well with the rest of the color scheme of the kitchen.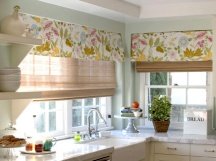 To do that, simply look at the colors of the existing finishes, and draw the wall paint color from there.
Does the floor tile contain blotches of terra cotta? Can you easily see green veins in your countertop even from a distance? Do you love the subtle blue in your window treatment fabric?
Take one of those colors and use it on your kitchen walls. Sometimes picking the right kitchen paint color is that easy.
These are just a few places where great ideas for a kitchen paint color can be found. But the world itself is a colorful place and inspiration is everywhere - if you only pay attention.
See Also: