How to Paint Stripes
Questions and Answers
Ready to paint stripes? Take your time - striping paint successfully requires a lot of patience and the know how...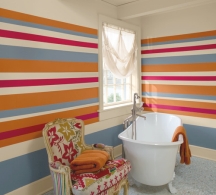 If you decide to paint stripes or any pattern calling for a grid configuration (such as a checkerboard or plaid), you must plan the proportions of the pattern and mark it on your surface before you begin to paint.
Though this preliminary stage may seem tedious or time-consuming, it's important that you think these patterns through to ensure that corners, differing wall proportions, architectural elements such as windows, and any oddities such as sloping floors are accomodated ahead of time.
The following assumes you are painting stripes on a wall; you can easily adapt the directions to prepare a floor or other surface.
Before You Paint Stripes,
Ask Yourself These Questions:
To begin, ask yourself some questions. You might not have the final answers to the following until you've completed your planning, but you can't get started without a design concept.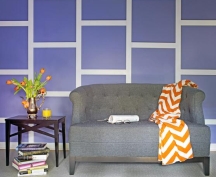 What is the scale of the pattern? For instance, how wide is each of the stripes in the pattern? Your choice of striping design can be decided partly by the proportions of the room: big shapes will be fine in large rooms, but will dominate small rooms, and small patterns will be lost in large rooms.

Will your pattern be regular or irregular (in other words, will it have a repeat?) Will the stripes have equal or varying widths?

Do you want the pattern centered on the surface? For example, should the center of a stripe be placed on the vertical center of the wall, or should two stripes be on the vertical center? Either way can be fine, but depending on the proportions of the pattern and the wall, one might be more pleasing than the other or might work better at corners.

Is the pattern going on adjacent walls? Is it important that the pattern repeat be complete on the wall, or can it continue around the corners?

If you are painting a Chevron or block pattern, for example, will there be visible grid lines? How wide?

Will the pattern cover the entire surface or only a portion of it? Where will you stop? Will there be a border around the pattern?
Once you've answered these questions, you can mark the pattern on the wall. If you are uncertain about the spacing of the pattern on the wall, make a scale drawing on graph paper first.
Got a question about how to paint stripes? Browse through the frequently asked paint striping questions below - chances are, yours has already been answered!
Questions and Answers About
How to Paint Stripes:
Enjoy the Q&As, get inspired and don't forget to leave a comment!


Searching for House Painters?

See also: