Delicious
Wall Painting Colors
Wall painting colors based on fruit can produce the most delicious interior paint color combinations and schemes you can use in house painting.
So many artists turn to fruit for inspiration. Why can't you do the same? By mixing the colors of fruits, you can create an inviting and invigorating room color scheme.
Wall painting colors based on fruit can range as much as fruit colors do.
Your kitchen wall colors can be inspired by a yellow pear, with cherry red used as accents.
In the living room, you could paint the walls a yummy papaya color and accessorize with grape green.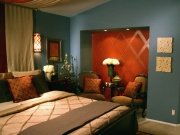 If you key your bedroom wall paint colors to a blue fig, the room will look very seductive.
You can base your home decorating color scheme on a single fruit like a pear - which has color variations going from green to yellow to red. Or you can try to incorporate the colors of an entire bowl of fruit!
In this kitchen example, we'll use the colors of apple, yellow mango, kiwi and pineapple. To start, paint your walls a yellow color - a lighter shade will go on the ceiling. Use the color of the kiwi for painting the woodwork. The apple red will be used on the shelves and bar stools.
Now that all the main color of the scheme are in place, you can go ahead and add some finishing touches - cherry red and pineapple yellow accents.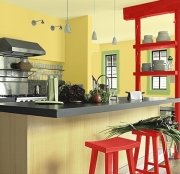 You can also create a pleasing room color scheme using a basket of grapes, plums and persimmons. But bear in mind that too many colors, like too many cooks, can spoil your color scheme.
Remember to keep your walls, woodwork and ceiling light in color, reserving the deeper shades for the floor and carpet. Drapery and upholstery colors should bridge the two extremes.
Pulling wall paint colors from fruit is a surefire way of creating fun and happy rooms. A great mood will be guaranteed even on gloomy days!
See Also: