Painting the Main Area and Need Color Ideas
by Al
(Texas)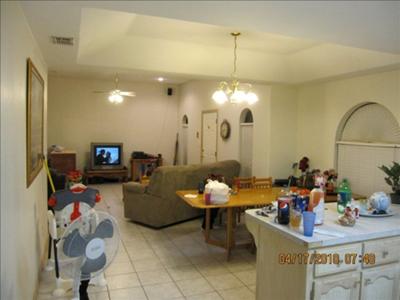 The main area to be painted
Dilemma:
Hello everyone, I want to give my parents a little help to get some color in their house.

The furniture in the living room in this picture is gone, and there is new furniture on the way that has similar but darker brown and natural wood colors.

The view you see is from inside the kitchen. I would like to paint the living room, dining room, and kitchen areas.

The dining room walls have no breaks as they lead into the kitchen, so I guess that means that the kitchen will be the same color as the dining room - which is fine, but my main concern is breaking up the living room from the dining room, to make the space NOT look like one giant kitchen-living-dining-room like it does now.

I'm looking at several paint colors already but the brass gold fixtures and pinky-beige, white washed, wood cabinets and trim are throwing me off.

The blue and pinkish streaked and dark grey grouted tile, along with the similar laminate countertop don't help either.

My main goal is to make it look as natural as possible with the current fixtures and finishes, and as I help them to upgrade, we will move on to more exciting colors.

Here are some of the colors I'm looking at for the living room (all are from Sherwin Williams paint company):





I would like an accent wall but I don't know if it's the best idea. As you may have noticed I love the greens (to go with the darker brown of the new furniture), so I'd like to stay close to that as possible.

For the dining room and kitchen I have zero ideas. I wanted a dark deep red like SW Rockwood Red but I don't know if it goes well?




I'm mostly trying to stay away from purples here, but I'm open to any and all suggestions.
Critique:
Al, you can always just paint your
cabinets
and
trim
! So by all means do it - paint them both the same
white
(use
SW Alabaster
in a
semi-gloss finish
).
There is no reason to live with
pink woodwork
and then try to make it work with the rest of your house, when you can just paint it
white
and have one less problem to deal with in your
home color scheme
.
Actually, you can even
apply products to change the color and pattern of your countertop
. It's not hard to do and they come with easy to follow instructions, or you could
hire a painter
to do it for you.
That just leaves us with the floor tile... which can also be painted, but I would advise against it for durability concerns - it's a large surface in a heavy foot traffic area.
So the tile is still a problem but there are ways to make it look less
pink
and bossy:
1)
Avoid color complements
2)
Distract with a stronger color
3)
Repeat the color intentionally
Now let's look at each of these options separately.
Option #1
eliminates
green
as a potential wall color (sorry, I know you wanted it). It's because green is a complement to
red
, and
complementary colors
intensify each other. In your case, this means that green walls will make your floor tile and the pinkish finishes in your
kitchen
look even pinker than they do now.
Option #2
is out also - because you said all the furniture in the photo is gone, and we don't have anything to relate a bold wall color to (strong wall colors
need to be repeated
in the surrounding decor, otherwise they look alien and out of place). Besides, a
yellow
will really clash with your pinky finishes, and deep red walls will close in the dining/kitchen area and look heavy and dated (especially in the context of already outdated fixtures).
That leaves us only with
Option #3
- which in your case means... more
pinky beige
. But it's not as bad as it sounds - because when done intentionally, it will help blend in the tile and other pinky finishes, so that they become less noticeable and almost "disappear".
So here's the color I recommend for your
kitchen
and dining room -
SW 6099 Sand Dollar
:
It's a beige with a pink
undertone
, and I recommend it even if you repaint the
cabinets
and
trim
, because you still have the pink floor tile to contend with. This color will help make all the existing pinky finishes look less pink, and pull the entire area together into one cohesive whole.
And I really think your kitchen/dining area have to be the same color; there's no place to break that wall and painting a line where there isn't one (even a straight taped line) is a mistake.
Now, for the living room I have selected a blue-gray color (
SW 6247 Krypton
) - to
coordinate
with the floor tile and at the same time, make it less visible: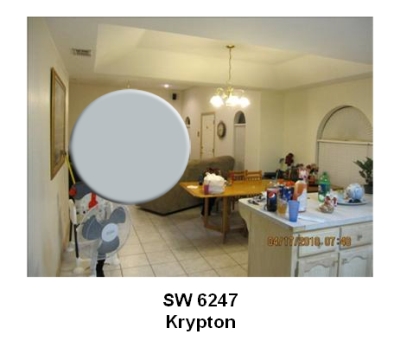 Blue
is the best color to pair with pinky beige, so it will work both with your existing pinky finishes and the new wall color in the dining room and
kitchen
. It will also look great with the new
brown wood
furniture coming for the living room (blue and
brown
is a timeless combination).
And because these two wall colors are close in
value
(lightness/darkness), they will define the space without cutting it in half, and help transition into the updating you want to do.
Also, I see there's a nice tray in the dining room
ceiling
. Put a little color in there as well! You said you wanted an
accent wall
? Well, this will be even better!
Just re-use
Krypton
for this - it will be beautiful on the
ceiling
, and that's how you'll create more interest,
continuity and flow
in your home color scheme.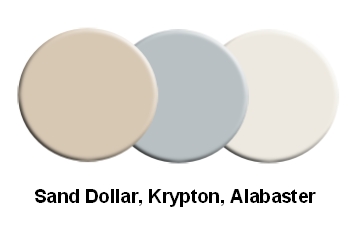 And finally, if you go ahead with re-painting your cabinets and
trim
, paint the dining room table and chairs at the same time (use
Alabaster
again) - it will do wonders to update both the furniture set, and the look and feel of the entire space.
No one will notice your pinky fixtures anymore!