Unique and Creative Ideas
for Striping Paint
Here are some unusual ideas for striping paint on different surfaces - not just on the walls:
Ceiling Paint Stripes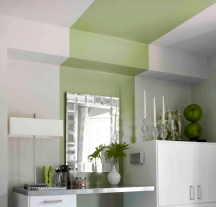 This is perhaps the most unorthodox idea for striping paint - painting stripes on a ceiling, of all places!
But don't you love the funky, jewel-box effect it creates?
Also notice the trick to pulling it off:
the stripes should be continued from the ceiling down to the walls (partially) to ground the look, otherwise they'll just float above and look funny.
Ceiling stripes work equally great both in kids' rooms, and in grown ups' main living areas.
The only drawback here is going to be the pain in the neck from all that measuring, line marking and taping.
But of course, you can always cheat and use super-wide bands of color - and you'll be done in no time!
Floor Paint Stripes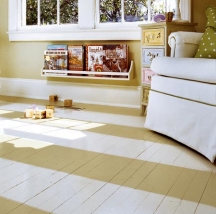 If you have old wooden or concrete floors in your home that can be painted, consider stripes. You will get that hip, designer-ish look that you usually see only in decorating magazines. And it's very simple to do.
Plus, this striping paint idea lets you manipulate the dimensions of a space.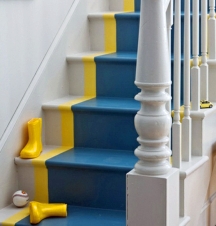 For example, horizontal stripes will widen a room, while vertical stripes will make it seem longer. You can use this effect to your advantage and correct the shape of your room to your liking.
Also, you don't have to fill the entire floor with stripes. Sometimes it makes more sense just to paint a striped "rug" in the middle of the room - for example, under your breakfast or dinner table.
Staircase Paint Stripes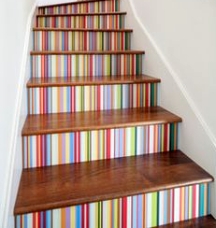 Another interesting color striping idea is to create a "runner" up your staircase. For that, you will only need to paint on one wide band. It can be a solid color, or a semi-transparent mix of glaze and paint like shown in this photo (it will create a shadowy effect).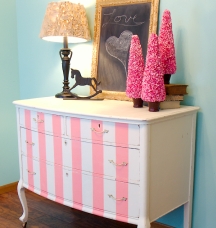 And if your home is decorated in a casual country style, you can give your staircase a makeover by using decorative combing on the treads and/or the risers.
As the paint eventually wears over many years, the faded effect will only become more fitting with the surroundings.
Furniture Paint Stripes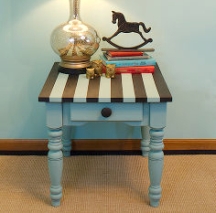 Stripes are also a great way to resurrect a vintage dresser or a chest.
That's how you can add some pizzazz to a room, and turn that old and boring flea market find into a conversation piece.
This painting technique is so versatile, it can look as playful or as serious as you like:
just change the paint colors, tweak the pattern and the size of the stripes, and it will look appropriate on both kids' and adult's furnishings.
Chair Rail Border Paint Stripes
Finally, here's a really smart striping paint idea: creating a "chair rail border" on the walls! Such informal borders will make a room seem more architecturally interesting.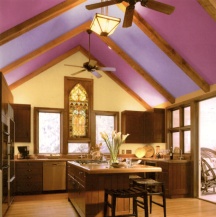 They are fast and easy to apply - a fun 2-hour project.
In children's rooms, you can even paint the band by hand (for a charming, less-than-perfect, and even somewhat naive look).
Then further embellish it with stamps, stensils or hand-painted designs.
Get a Quote for
Striping Paint:

See also: