Painting Stripes On a Wall:
Tips From the Pros
By painting stripes on a wall, you can give the most ordinary room an extraordinary feel. Here are a few tips and tricks of the trade that professional house painters use when striping paint:
Tips for Painting Wall Stripes: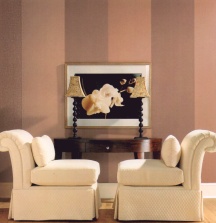 Remember that the wider the stripes, the faster the job.

Always cover the floor with dropclothes to protect it from spills, drips and other messy paint accidents.

Never rush the project - wait at least 24 hours for the base coat to dry, if you don't want problems with peeling paint.

When marking your wall stripes, keep in mind that chalk is the easiest to wipe off at the end of the project, but use a very light hand - otherwise the paint may not stick to the chalk marks. You can also use a pensil to make light, tiny marks when working with medium and deep paint colors, but the marks may be noticeable on very light paint colors. But you should never, ever use an ink pen - it will bleed through multiple coats of paint (often through primer as well) and ruin your paint job.

Always use low-tack, blue painter's tape when painting stripes on a wall, so you won't pull off the base coat when you remove the tape. Most other tapes (especially masking tapes) are too strong for paint striping.

Most low-tack tape is reusable, so you can tape half the room, paint, and then use the same tape again on the second half.

To minimize paint seepage, use the back edge of a plastic spoon to press along the edge of the tape - that way it will adhere to the wall better.

For truly sharp and clean lines and to prevent seepage completely, paint just over the edge of the tape using the base color - that will seal the edges. Let it dry, then apply the stripes color as usual.

If there's any paint seepage under the tape, wrap a sheet of damp paper towel around your finger and wipe the excess. If the paint is already dry, use a tiny artist's brush to touch up the base color.

Remove the tape while the paint is still wet, but use care not to smudge the fresh coat.

When removing the tape, pull steadily, from the top down, at a 45 degree angle to the wall.
Have a question about painting stripes on a wall? Check out "Paint Stripes Q&As".
Interior Painting Quotes:

See also: