Choosing Paint Color for a Home:
It's Like Choosing an Outfit
What does choosing paint color have to do with your clothes? Actually, a lot - see the proof below...
If choosing paint color is difficult for you, maybe it will help if you looked at the whole process a bit differently?
Choosing Paint Colors
Is Like Choosing Clothes
1. Consciously or unconsciously, most people wear clothes that reflect their temperament.
For example, if you are a quiet, shy person, chances are you don't wear bold colors in your clothing. So bold paint colors in your home will likely make you uncomfortable as well. On the other hand, if you are truly outgoing and flamboyant, vivid wall colors may better reflect your personality, while bleak tones could make you feel blah.
So look at your exising wardrobe, and consider your temperament - that will help you figure out your color tolerance levels, and help narrow down your paint color choices.
2. You don't wear the same clothes both to work and to a dinner party, do you?
Likewise, your home decorating paint colors should be appropriate for each room.
Red in an office or a reading room? Not a good idea: too much stimulation. Bleak off-whites in a formal dining room? Not appetizing and boring...
Always consider the purpose of the room, so that your wall paint color will be right for the "occasion".
3. If you choose clothes that flatter your skin tone, why not choose home painting colors in the same way?
After all, if you spend so much time against the background of your walls, doesn't it make sense to use the color that makes you look good? And of course, when you know you look good, you feel good!
So next time you are choosing paint colors for your home, hold the chips against your skin and see what each color does for you.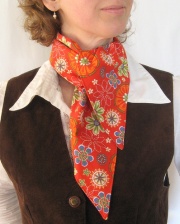 4. You know how much jazz a bold color accent can add to your outfit! In your home, your walls can also serve as an accent.
For example, in a room with lots of windows and/or furniture against the walls, you will not see much of the wall space. That means you can use a really bold color, and yet it won't look crazy or over the top, because you will see just a little of it.
But large wall spaces can easily overwhelm when painted a bold color, so they need to be balanced out with the right color furniture, drapes, area rugs and other decor elements.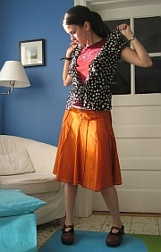 5. If you are like me, you pay attention to how your clothing colors coordinate together. I personally don't buy anything without thinking what I am going to wear it with first.
Choosing a paint color for your walls is no different. The color must coordinate with your existing home decorating color scheme.
That means you shouldn't impulsively buy paint in a store. At the very least, take a swatch board with you that has the colors of your decor elements.
Or, better yet, bring a few paint color chips home and see whether they work with the colors of your furniture, fabrics and accessories.
6. Very few people dress like that (see the picture on the left), but some still make this mistake when choosing paint color for their homes.
While matching wall painting colors to something in your decor is a good idea, it's important not to go overboard.
Make sure you have some healthy variation in colors.
And if you insist on having a monochromatic paint color palette, add interest with texture and shade gradation (lighter and darker shades of the same color).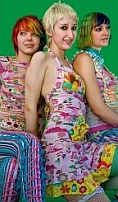 7. Of course you know that patterned clothes look best when paired down with solid color pieces.
The same applies to your home.
If you have a lot of pattern in your decor already (in furniture upholstery, drapes, etc), you walls should be a solid color - faux painting finishes or wallpaper will be too much.
As far as choosing a paint color, it's better to repeat the background color of the pattern on the walls.
8. You know how different the same blouse can look on you when you try it on in the store, and at home. Well, paint colors are affected by lighting in the same way.
That's why you should always see the paint color in the natural and artificial lighting of your home, before comitting to it.
The best way to do that is to make an oversized paint color swatch and live with it for a few days. Prepare to be surprised!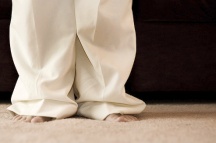 9. I don't know about you, but I don't like looking ridiculous. So when it comes to clothing, I take into account my body type (height, weight, proportions).
Guess what, you home also has a "body type" - size, style, layout, etc. - keep that in mind when choosing paint colors.
For example, deep, bold colors look better in large homes with plenty of light; historical homes like to be painted with the appropriate period colors and so on.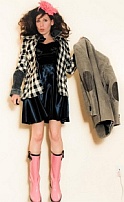 10. Finally, I'm sure you can imagine how awkward it would feel to wear somebody else's clothes.
Home paint colors that don't "speak" to you can make you feel the same.

So never let anyone pressure you into choosing a color that you don't connect with - be it your friend, professional decorator or the latest color trend.

Choosing paint colors is like choosing clothes - there is no right or wrong, only individual preferences.
See Also: