Our Freshly Painted Taupe Color Family Room
by Eric
(Sanford, NC)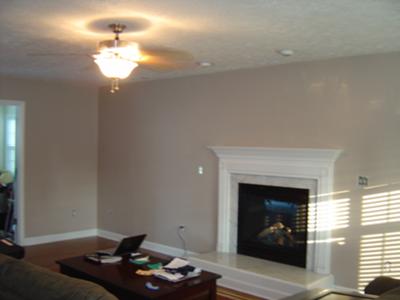 Earthy taupe wall color
This picture is of our family room which we recently painted an earthy taupe color. The official name is Cincinnatian Hotel Nichols Taupe. It's a Valspar semi-gloss paint from Lowes.


We chose this color as it offsets our current furniture color which is a dark green and our hardwood floors of dark cherry. As you can see from the photo it also compliments the white fireplace and our darker furniture.
For this sized room it only took two cans and using the premium paint there is no primer to apply beforehand as it is already mixed in with the paint.
Preparing the room for paint took about three hours and the paint job itself took about four. I used a Wagner power roller to apply the paint and it was very convenient not having to return to the pan and roll every time I needed a refill.
Cleanup of the power roller did take some considerable time. But clean up of dripped paint was very easy as this is a water based latex paint. I was able to come back and clean dry paint off the hardwood with no issues, although it had not fully dried at the time.
We were going for a subtle color in the room that emitted a relaxed vibe and this color does the trick. It transitions well with the original cream colored paint that we have in the rest of the house.
We have found that the paint is extremely durable against bumps and spills. Scrubbing scuffs off of the paint is very easy with no noticeable damage left behind.
Overall, I was pleased with how this job turned out. I've used lower quality paints in the past and the job had taken much longer as I had to prime and apply two coats to get the same quality as I did with the one coat of this job.
Click here to share your paint color idea and see your name in lights!