Warm Neutral Mocha Paint Color on Our Living Room Walls
by Christina
(Chicago, IL)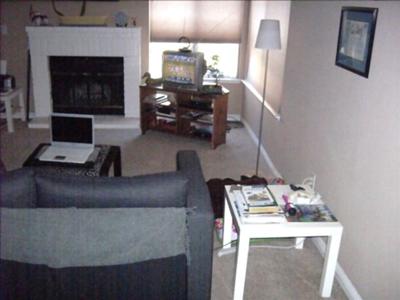 A mid-tone neutral Mocha shade on the walls
We wanted to warm up our living room and make it feel a bit cozier. After searching for consumer feedback on color-accents for living spaces, we found that a range of very light brown paint colors might meet our needs.


We had first considered a very light
"Swiss Mocha"
, which appears white to the eye, but is really a very pale, softly tinted brown shade. Examples of rooms painted in that color appeared to be very calming.
We also looked at darker brown paint colors, but felt that it created too much of a "den" feeling; almost claustrophobic to us.
In the middle of the range was simple
"Mocha"
, available as a stock color in most paint brands, which appeared to warm up a room without overwhelming it.
Inspired by magazine photos that conveyed a homey feeling with this mid-range brown color on the walls, we started out by painting just one wall of our living room.
This light brown shade immediately warmed up the room and gave it a soothing quality. Pleased with the change, we decided to apply the paint color to all walls, leaving only a contrasting accent trim of Swiss Mocha on the trim areas.
Because the room opened out into our dining area, done completely in the lighter Swiss Mocha, they flowed together nicely and contrasted well. And, it was very easy to avoid spilling paint on the trim by using painter's tape.
We were very cautious about trying out a new wall painting color scheme, since we had seen so many on-line photos of rooms in houses for sale that used color to very poor effect.
So, when starting a large painting project that impacts the visual quality of a room, there is great benefit to covering just one wall at a time in order to gauge the overall impression. If that color scheme is not to your liking, it can easily be changed back by having an extra can of the old paint on hand.
If that old color or brand is not available, you can even purchase new paint that matches the old, and simply refresh the entire room back to its original color.
But, as in our case, you may find that by choosing a mid-range accent paint color that is applied first on just one wall is enough to entice you to eagerly finish the entire room in a fresh layer of accented paint.
Click here to share your paint color idea and see your name in lights!