Example of a Tan Paint Color in My Kitchen
by Amanda Ferris
(Owosso, MI)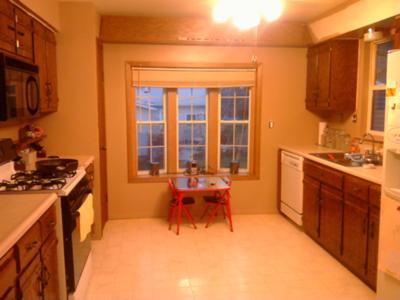 Second-hand tan paint on my kitchen walls
I moved into a rental house and of course my landlords were very nervous about letting me paint. They told me no crazy colors! I have an older kitchen with wooden cupboards and tan countertops. I was not allowed to replace the counters so I had to work with what I had.


I choose a color in the tan family, a little on the darker side. The color I picked helped bring out the colors in the counters and accent the cupboards.
My mother actually had this paint color left over from her living room and I thought it would look great in my kitchen, so I did it.
I was worried at first because the color was sort of dark, I thought it would make my small kitchen look even smaller. But it looked fantastic.
I was going for a country look and definitely got that result. After painting I added some green plants and sunflower decor. I think it is beautiful.
P.S. The brand of paint was
Glidden
and it was semi gloss.
Click here to share your paint color idea and see your name in lights!