I Need Coastal Home Painting Ideas!
by Teena
(Pennsylvania)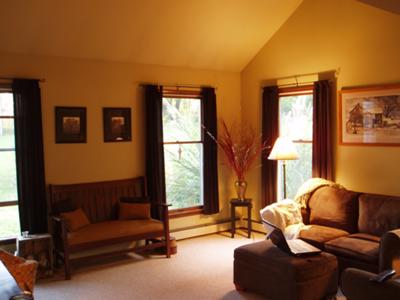 Current paint color and decor
Dilemma:
I found your website while searching for ideas to make my home have a more coastal feeling.

I am really stuck on paint. I have a cape cod home that has an open floor plan — foyer, living room, dining room and kitchen. I want to paint the downstairs to more resemble a Maine/coastal cottage type thing.

When I look at pictures of homes and think of the homes that we stayed at in Maine — the walls are always white, but I just can't get the right shade. Maybe a creamy white?

And I want to paint all the stained woodwork. Maybe do that in a darker shade, or even a grayish white??? Is it ok to paint woodwork another color than white?

Can't afford to do the kitchen cabinets — but I would redo the countertop in black, and add stainless steel pulls to the cabinets. New drapes and some accent pillows. If I would get a new couch — think Pottery Barn canvas.

Just really need some advice on the color of the walls/woodwork.

Any ideas/suggestions?
Critique:
Teena, you are right - Maine cottages and coastal homes usually have
white walls
. But white is not always the best or only way to achieve the same look!
For example, a true white is not going to work in your home. First, you don't get enough
natural light
to make it look fresh and clean. Second, your finishes and decor are all
earth-tones
, and next to them your white walls will just look like primer.
At the same time, a creamy white will clash with your
pinky beige
carpet.
So what you need here is a greige - a pale warm
neutral
that will give you the look of white without actually being one.
Now as far as
painting woodwork a darker color than the walls
, you absolutely can do it - if you have a reason to.
In your case, a good reason to use a
deeper color on the trim
would be to help create a more casual, laid-back atmosphere, and define the windows without having to use curtains or drapes (also part of the coastal look).
Here's the color combination I have in mind: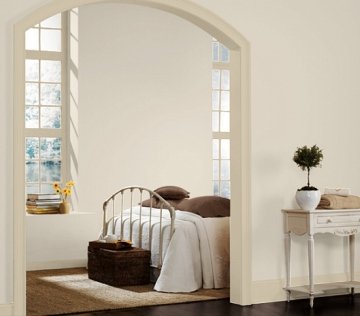 The walls are
6105 Divine White
- which is a soft, smokey greige that will look like white (only better!) in your home (and you can even use it on the
ceilings
).
The woodwork is
6106 Kilim Beige
- a coordinating
neutral
with just the right amount of contrast for a coastal look and feel.
Both colors are from
Sherwin Williams
, and both have a touch of
pink
to them to look right with your carpeting.
---
But paint color is only half the job done - the rest is in
decorating
.
Right now you have too much
brown
and too much
contrast
going on in the decor, and coastal homes are mostly light and blended.
For accents, think
grays
, faded foam
greens
,
blues
and off-whites, and of course some natural textures and fibers to "anchor" the theme.
P.S.
And I think you can definitely afford to do your
kitchen cabinets
- if you just paint, rather than replace them. If your cabinets are in a good shape structurally, no one will be the wiser!