Tips and Ideas For
Painting Stripes On Walls
It's very easy to change the mood and style of any room simply by painting stripes on walls.
But although this wall painting technique seems simple, stripe painting is also a pretty powerful way to alter the perceived size and even shape of a room, so it's important that you take your time picking paint colors, deciding on the width and direction of the wall stripes and considering other options that will determine the end result of your wall striping project.
Color of Wall Stripes
Choosing paint colors for painting stripes on walls is the first thing you'll need to tackle. With so many color choices and combinations, your possibilities are endless! If that doesn't sound like a good thing and you are feeling overwhelmed, stop and think about what kind of mood you are trying to create.
wall stripes painted with shades of the same color are always a safe choice

light colors are elegant and unobtrusive - they make a room look more spacious

deep colors add drama and character to a room and make it feel more enclosed

the higher the contrast between stripe colors, the louder the statement (be very careful with high contrasting colors and use them sparingly - or you'll end up with a room that looks like a circus tent)
Direction of Wall Stripes
Vertical wall stripes are the most popular and safe choice. Plus, in the right size, they can make your ceilings appear higher and give structure to a shapeless, boxy space.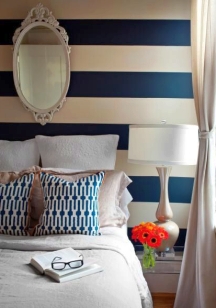 Horizontal wall stripes create a more casual look - they also trick the eye by making the room appear larger, and the ceiling lower.
Diagonal wall stripes can be used with success when strategically applied to a part of a room (e.g an accent wall) to create an illusion of movement.
Width of Wall Stripes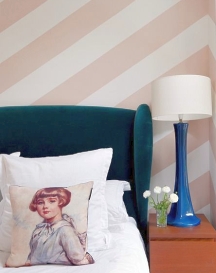 The most optimal width for vertical stripes is about 6 inches - wider stripes look more casual and visually push the walls out; more narrow stripes look great on a small/accent wall, but start looking too busy when used for painting a room in its entirety.
Horizontal stripes look best when they are about 12 inches wide, while the width of diagonal striping should proportionally increase with the size of the painted surface.
Stripes of equal width are considered classic, but you can break away from the norm by combining 2 or even 3 different sizes for an added interest.
Sheen of Wall Stripes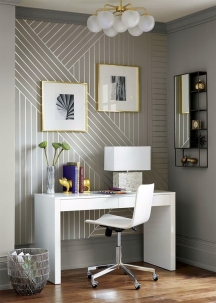 Most people choose a flat, matte paint for painting stripes on walls.
But another alternative is wall striping in exactly the same color, but with different paint finishes - the effect is very subtle and elegantly understated.
Or, if you dare, you can even combine matte stripes with the ones painted in metallic finish.
Finish of Wall Stripes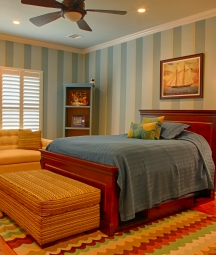 Stripe painting is already impressive all by itself, but faux painting techniques take it one step further - they add texture and dimension to the pattern.
Besides, if you don't like the clean lines of regular stripes, decorative wall painting techniques can help you achieve a more antique, distressed or subtle look with softer or ragged edges.
Need more examples of painting stripes on walls?
Click here to see real people's Wall Striping projects and how they did it!
Check This Out (recommended):
Most Popular Interior Paint Colors - Best Paint Colors
from Sherwin Williams - "Paint Color Cheat Sheets"
Wall Striping Projects From Other Visitors:
Here are some great wall striping photos and stories submitted by other visitors to this page - take a look and don't forget to leave a comment!

Subtle Blue Painted Wall Stripes in the Dining Room
My dining room was terribly outdated when I moved into my current house. It had floral wall paper on the top half of the walls and maroon paint on the …...
Vertical Wall Stripes in a Period Bedroom - Yellow and Cream Paint Color Combination
I live in a very old house built in 1723. When we moved in, this spare bedroom had two layers of OLD and UGLY wallpaper.
Since the ceiling in this …...
Wall Striping in a Flat and Glossy Finish
I just wanted to share my stripe painting project with you. I did the stripes only on the main wall in the room, I guess you can call it an accent wall. …...
Wide Horizontal Striping in the Bathroom
When I went and finally got around to painting the guest bathroom, I really wanted to try something that I've been seeing on television shows.
I …...
Horizontal Wall Stripes Make a Great Border
I recently purchased a duvet cover for my bed that had dark pink, light pink, and orange circles on it, and wanted to paint my room to match it.
…...
Tone-On-Tone Stripes in My Powder Room
If you have some paint leftovers, why not use them up for painting stripes? That's exactly what I did.
We recently remodeled our powder room, and …...
Painting Stripe Combination in a Kids' Bathroom
Kelly found this wall stripe pattern while thumbing through a home decor catalog. She liked the color and stripe combination so much, that she decided …...
Wall Stripes in the Dining Room
The builder's white color didn't do justice to this beautiful formal dining room, so Colleen decided to add some drama to it.
Taking a clue from …...
Vertical Metallic Gold Stripes in Dining Room
We wanted to spruce up our dining room and make it feel a bit more formal. We decided to add faux judge's panels from chair rail level down and then …...
My wife saw a picture like this in a home decorating catalog, and she wanted a room just like that. I immediately agreed, because I just love stripes. …...
Glossy/Matte Stripes Painted On a Black Accent Wall Not rated yet

When planning to update the bar in our basement I knew I wanted to give it an updated Hollywood Glam sort of feel without spending a fortune.
The …...
Looking For a
Home Painting Contractor?

See also: