Help Coordinate Paint Colors With Living Room Decor
by Jeanne
(Bristol, TN)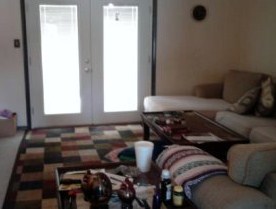 My living room decor colors
Dilemma:
I need help choosing and coordinating paint colors with my existing decor.

The carpet and sectional are tan. The rug is multi colored. The dining room set is fabric burgundy.

There's a new french door we put in two days ago, and dark wood trim and doors throughout the house.

The pictures were taken on a cell phone and may not be very big. Thank you in advance for your help and ideas!
Critique:
Jeanne, whenever there's
3 or more colors
present in the decor, it's better to re-use one of them on the walls. Otherwise things can start looking too busy and all over the place.
So that's what we are going to do with your living and dining room area - we'll use one of the multiple colors you already have in the space.
Since we have several colors to choose from, we need to use the process of elimination in order to zoom in on just one color.
So let's take a look around:
So, what are we left with? It's
green
of course!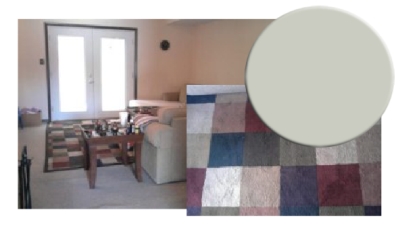 A light shade of green will unify your entire color scheme and
coordinate
beautifully with your decor.
In the living room, it will be a great backdrop for your couch (because your couch has a green
undertone
to it). In the dining room, it will really offset your burgundy furniture (because green and red are
complements
).
Just choose one of the lighter green squares in the rug to
match your wall paint color
to. And don't worry about being exact because just like in nature, even different shades of green play well together!
So there you have it - an easy and effective method for choosing and coordinating paint colors with
existing decor
.
I hope this lesson was helpful!