Tips for
Paint Color Matching
Paint color matching can be a frustrating task. These tips will help you find matching wall colors for your house painting project...
NOTE: This article deals with matching paint colors to furniture, flooring and other design elements in your home. To learn how to match your existing wall paint colors (when you need to re-create the color for re-painting), go to: "Instructions for Color Matching Paint".
Lighting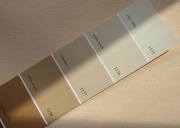 When matching interior paint colors to something in your decor, do so only in daylight. Artificial lighting can drastically change how colors look - and the paint color chip that seemed like a perfect match last night, will appear totally wrong in the morning.
Sunny days are best for paint color matching - but not in the direct sunlight! Any color flooded with sunlight will look washed out and impossible to match. So move the item you are matching, or wait a couple of hours until the sun changes its position.
Position
The way you position paint color chips against the items you are trying to match is very important. For example, when matching a wall paint color to the cabinets, most people hold the chips vertically. But when trying to match a wall painting color to tile or carpet, they place the paint chips level with the floor. This is a mistake!
If you view a color chip vertically and then horizontally, you will realize that the same color will appear quite different. So always place the chips on the same plane they will be used on - vertically if you are matching a color for painting the walls, and horizontally for painting countertops, floors or tables.
The image above shows the correct position of the chips when matching wall colors to carpet.
Undertones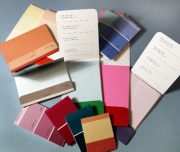 Paint color matching is one of the ways to ensure your room color scheme is unified by a common thread of color. So a lot of people try to match the color of the walls to fabrics or accent pieces in the decor as closely as possible. But it's not always neccessary to match the color exactly.
Harmony and balance of your room color palette will usually not be disturbed if you don't get the value exactly right (in other words, if you choose a shade lighter or darker that the original color).
Making a small mistake with the intensity is also no big deal, and can be even interesting.
But fail to match the undertone, and your entire room color scheme may be thrown off balance.
To learn more about this aspect of color, see "Interior Paint Color Undertones" and "Why Matching Paint Color Undertones is Important".
See Also: