Confessions of a House Painter:
NJ Company Reveals Industry Lies

Learn the things you don't expect to hear from a house painter - NJ homeowners will discover the truth about "permanent" paint coatings and their promise.
This article has attracted a lot of attention when it was first published, and we received many threatening emails from NJ painters selling "permanent coatings" at the time, demanding that we remove it from our site. 
Years later, this information still stands, while the permanent paints and their promises still don't hold up.
It seems the "Never Paint Again" fad has finally ended, and most of the painters who participated are either gone (the scammers) or back to using regular paints (the temporarily confused who paid for it later - literally and fuguratively, including with their reputation and business).
Lies of a House Painter:
NJ Permanent Paints Debunked
Customers often ask us about the "Stop Painting Forever" type of coatings:
"If these paints are as good as they claim to be, how come everyone is not using them by now? Our friends' and neighbors' houses are still all painted with the regular stuff."

That's a good question, which holds the answer in itself if you think about it: because they don't work as claimed (word goes around).

And while we do use many products that come with a lifetime guarantee from the manufacturer for painting New Jersey homes, you will never see us advertise them as "permanent" coatings that will allow you to never paint your house again, because that would be a lie and here's why...
The Thing About House Painting:
Nothing Lasts Forever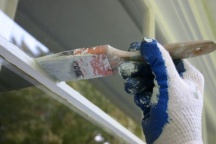 There is NO coating that doesn't fade and deteriorate under the sun.
In fact, even the manufacturers of such "permanent" paint products recommend applying a "refreshing" coat to your house every 5-7 years (you need to read the fine print to see that).
Now how permanent is that?

The truth is, there are just too many reasons why any coating can fail, and no amount of surface preparation will change that.
For example, most existing homes have been previously painted or stained with traditional products.
Each additional layer of product forms an adhesive chain, and when the weakest link in this chain fails, all of the coatings applied to this weak link - including the miracle "permanent" coatings - will peel and fall away from your home.
That's just basic physics, but we are talking from personal experience as well:
We've had to fix several paint jobs where the "forever" paint was coming off in sheets from the siding, because the underlying, older regular paint was being rejected by the wood (due to age, moisture or inadequate original surface prep). 

And if you think you are protected by a lifetime warranty in case this happens, think again: a manufacturer's warranty is pretty much worthless.
House Painting Projects
Are Not Covered
Very few people realize that what manufacturers guarantee is just their product... in a can.
Once the can is opened and the product is applied to a surface, you are on your own.
If you've ever tried making a claim, you already know that it's way too difficult to prove that the product has failed, because with manufacturers, it's always "an application mistake".
And the most you might get (if you have a lot of patience and time on your hands) is more of the same product free of charge - but be prepared to jump through hoops to get even that.
Now, if you take into account that the biggest expenses of any paint job come from labor, getting free product is not of much help - because you still have to pay a painting contractor to fix the problem and re-apply the coating that might fail again...and again...
But let's talk about house painters' warranties.
How Good Is the Warranty of a Home Painter?
NJ Painters Come And Go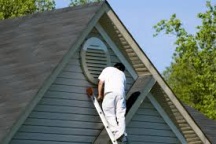 No contractor in good faith can guarantee his work for more than a couple of years (including "permanent" coatings), because some things are simply beyond our control.
And if you find someone who does, consider this: most people have a hard time finding a reliable painter who will honor even a standard 1-2 year warranty, let alone an extended one.
So what makes you think that yours will actually keep returning to perform free service under the warranty terms even for the next 5 years (don't get us started on the 25-year warranty promise)?
Do you really think he is that financially stable?
No matter what he promises you, he might not even be in business next year.
A lifetime warranty is not of much value when there's no one to honor it.
New Jersey Painters' Gimmicks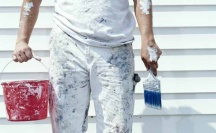 The sad reality is, any extended/lifetime warranty is nothing more than a marketing gimmick used by both painting contractors and product manufacturers in order to make you sign an overpriced contract.
At best, such a warranty may only indicate the quality of the product, but still it does not guarantee anything.


---

There are some good reasons to use a coating with a lifetime rating, but a lifetime warranty is not one of them - keep this in mind when considering your options, and don't expect to stop painting forever, because most likely you won't.
And if you really want to save money on house maintenance, you best bet will be to find an honest, reputable New Jersey painting contractor who will not give you misleading promises, but will take care of your home by using the highest quality products, have proper tools, equipment and experience to do the job right the first time, and provide a reliable service and ongoing support.
That is as close as you can realistically get to a maintenance-free home.
Need a Quality Painter?
(NJ South)


See Also:

Should a NJ House Painter Guarantee His Work?
Home Improvement Painting and Maintenance Guides

NJ Painting And Powerwashing: Our Complete List of Services
New Jersey House Painting Company: AK Painting And Powerwashing