Stain Removal Tips From a
NJ Powerwashing Contractor

As a NJ powerwashing contractor, we often have to deal with stains that cannot be removed by pressure cleaning with water only.
In some situations, pressure washing is only effective when a specific cleaning agent is used in the process, otherwise it's just a waste of time, effort and water (and can even lead to surface damage).

Below is an overview of the process professional NJ power washing companies use to get rid of the most common stains, and the most effective products for each situation.

How NJ Powerwashing Pros
Get Rid of Tough Stains

Oil and Grease

Porous surfaces like concrete and brick absorb stains like a sponge. But fortunately, they also absorb cleaning products, which makes it possible to clean up those stains, or at least lighten them considerably.
Here are the 3 most effective ways of removing oil and grease stains:

1. Cat litter
This solution works best on fresh oil stains.
Cover the stain with lots of clay cat litter, then use your shoe to grind and really work the litter in. Leave overnight, then sweep away.
Repeat the next day if needed, then power wash the area.

2. Soap Detergent
For both new and old stains, try the following method.
Pour some heavy duty detergent/degreaser or oven cleaner on the spot. Do not wet the area with water - just use the product full strength.

Work the cleaner in with a stiff nylon bristle brush. Leave overnight, then hose off the soap.
Repeat if needed, then pressure wash the surface.

3. Eximo Cleaner
If all else fails,
try this product
It is completely environmentally friendly and it gets deep inside the pores of your concrete or brick, where its microbes break down the contaminants into water and CO2.
Use manufacturer's directions for product use (it may require 2-3 applications).
Follow up with powerwashing to even out the appearance of the surface.
Pro tip: Consider applying a clear protective sealer to all concrete and brick surfaces prone to staining. 2 coats of sealer will protect the surfaces from stains (by not letting contaminants to penetrate), improve the appearance and save you money on maintenance.
Mold and Mildew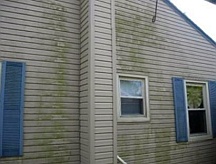 Mold and mildew spores thrive in dark, shady, humid areas and feed on dust, dirt and other contaminants.
And while you cannot change your home's location, you can eliminate the "food supply" by regularly powerwashing the exterior of your house.
But first, you need to kill the spores if you don't want them to reappear a couple of weeks later.
Killing mold and mildew spores is simple - just use a household bleach solution (3 parts water, 1 part bleach) to spray the affected areas.
Wait for about 30 minutes and you will see the black and green stains start to disappear.
Then power wash the surface to remove all residue.
Pro tip: Remember that the longer the mold/mildew sits on the surface, the deeper it gets inside. If you wait too long to remove it, it can permanently stain even vinyl siding!
Graffiti
It's best to remove graffiti as soon as you discover it on your house - to reduce your chances of being tagged again, and to prevent the paint from curing and binding to the surface.
If the graffiti has been applied to a non-porous surface and is new, power washing is usually all that's needed.
In all other cases (old graffiti, porous surfaces), you will need to use a
special graffiti removal product
, such as Taginator.
Spray the chemical on the surface, allow it enough time to work (30 min), then pressure wash the entire surface.
Pro tip: Keep in mind that, depending on how old the graffitti is, and the surface it was applied to, removing it completely may not be possible. In that case, be ready to repaint the area - maybe using an anti-graffiti barrier coating
this time.
---

Now that you know how NJ powerwashing pros handle stain removal, follow the same process and use the same products, and with the right power washing equipment and technique, you too can achieve professionally looking results.
Need a NJ Powerwashing
Contractor?


See Also:

FAQs About Our New Jersey Powerwashing Service

Who Should Do Your Deck Cleaning: NJ Pros or Yourself?

NJ Painting And Powerwashing: Our Complete List of Services
New Jersey House Painting Company: AK Painting And Powerwashing