Crisp and Comfortable Wall Color Idea for Repainting My Kitchen?
by Rebecca
(USA)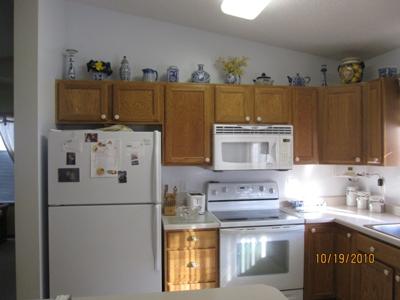 Oak cabinets and accessories
I am repainting my kitchen. Actually, I repainted my dining room and hallway and now I am stuck repainting my kitchen.
I have an open floor plan, where the living room, dining room and kitchen all flow together.
***z-adsense-med.shtml***
My living room is painted using Pittsburgh Paint in "Pineapple Delight". The hallway and dining room is done in Benjamin Moore using "Light Khaki" as a palette cleanser.
I would like something other than yellow for the kitchen. Maybe a green?
KITCHEN DETAILS:
*
Oak cabinetry with ivory ceramic knobs and polished brass pulls
*
Ivory vinyl flooring
*
Beige counter tops
*
Blue and White accent pieces
I would like to keep most of my blue and white pieces that are on top of the cabinets and work the wall paint color around them.
The plates on the accent wall where peninsula connects to will be going. The feel I am looking for is crisp and comfortable in the kitchen. I am not afraid of color as I have a purple office.
Any help is appreciated. Thank you.
Reply from Paula Pavlik-Douglas (our contributing expert):
Hi Rebecca,
Ah! Another victim of the Painting Snowball Effect!
Actually, I think a green would work, you just have to be careful which green...
Your kitchen cabinets being oak (which reads as yellow orange) are going to make any green look greener (opposites on the color wheel, or complimentary colors) and with the light khaki, you have to look to warmer greens.
My first instinct was to play it safe and go for Benjamin Moore Sandy White 2148-50:
...or even Good ol' Monroe Bisque HC-26 - you can add color other ways than the walls:
Then I checked into the green idea and Pittsburgh Paints has a green called Misty Moor ATC 43 which seems to dovetail from the khaki and yellow nicely:
I'm going to suggest a couple others just to keep it interesting. Benjamin Moore Dried Parsley 522:
...and BM Grecian Green 507:
As always, Sample Before Painting, but to save time and money, only sample the one you're pretty sure of - five or more sample colors on your walls is no longer sampling, it's an art project.
A few years ago I was doing a color consultation and the painter had put different colors on pieces of paper and strung them across the wall on a string. None of the colors worked for the walls, but it was a great color statement!
***z-c20-links-interior-color.shtml***