Kitchen Painting Ideas
by Style
Kitchen painting ideas can be as varied as kitchen decorating styles. Here are some traditional, country, contemporary, modern and asian kitchen wall color ideas for you to choose from...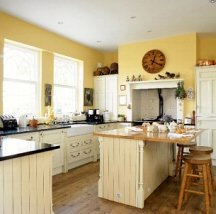 Sometimes, when a person is ready to update their kitchen with a remodel, they have no idea of where to even begin. All they know is that they want something that looks well thought out and put together with care and thought. Something beautiful.
The problem is, they don't know how to achieve that look, short of hiring a professional. But creating a well-designed kitchen doesn't require installing all the newest bells and whistles, or updating to the trendiest colors of the moment.
The most important part in creating a beautiful kitchen is knowing what you want out of it, and that includes knowing what style you prefer. Understanding your preferred style can go a long way in guiding you in gathering relevant kitchen painting ideas. It will also help you decide what range of colors would be best for putting together a well-designed kitchen color scheme.
The following are just a few popular styles that can aid you in deciding what "theme" you want, along with some kitchen painting ideas to achieve that look.
Modern Kitchen Painting Ideas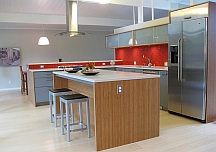 The Modern style is a minimalist approach with sleek lines and neutral colors, accented with bursts of bright, bold primary colors of red, blue, and yellow.
Its open space concept and use of geometric shapes is reminiscent to that of an artistic canvas as a whole.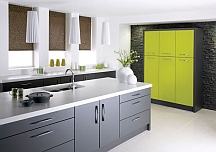 To achieve this look, be as frugal with color as possible.
Be selective on where primary colors will be used; don't overwhelm your visual senses by overusing the primary colors.
Maximize its effect by balancing out the overall design of the kitchen by using black, white, or a neutral color as the dominant color, then giving a punch of color here and there with the primary colors, either as an accent color, or in a vivid decorative piece.
Contemporary Kitchen Painting Ideas
Contemporary design is often confused with the Modern style, because both utilize clean, linear lines.
However, the contemporary style is softened with ornamentation through a variety of materials and details, and the use of unsaturated colors, to give the space a less stark look.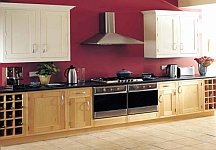 To create this look, pair neutral paints with colors that are toned down, for a classic and elegant effect. When using colors, select ones that complement each other, and repeat them throughout the color scheme.
Analogous colors are a good choice because they go well together. These are colors that are adjacent to each other on the paint color wheel, like blue, green, and yellow-green; and because analogous color combinations are often found in nature, they are especially attractive to the eye.
Traditional Kitchen Painting Ideas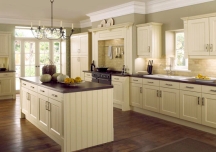 The Traditional room also carries with it a feeling of reminiscence and comfort. The style oftentimes uses a monochromatic color palette that portrays a sense of calm, especially those of blues and greens.
Using the colors that fall in the middle of the spectrum, further adds to the serenity of the space, unlike reds or oranges, that would fall at the ends of the color spectrum.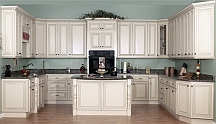 Also common in a Traditional room is symmetry, which continues to add to the feeling of tranquility with its uniform appearance.
Create a Traditional-styled kitchen color scheme by using whites, along with the calming color of a range of blues or greens. Keep the room light and airy.
You can break up the monotony by painting in stripes of alternating whites and the chosen color, and yet also maintaining symmetry for an overall balanced look.
Country Kitchen Painting Ideas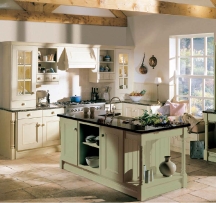 In a Country-inspired room, the emphasis is put on the rustic and vintage.
Items have a worn, comfortable look, or have a hand-made feel that carries a history with it and showcases its timelessness.
To add in some Country flair to your kitchen, use paints that would highlight the natural beauty of a piece.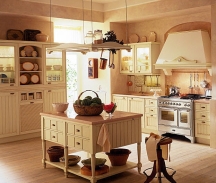 Textures in irregular painted surfaces, especially distressed wood, enhance the enduring qualities of the piece.
Don't be afraid to paint the wood furniture an off-white, or even light blue color - that only adds more charm.
The idea here is to show character in each well-worn piece, to share its story.
Asian Kitchen Painting Ideas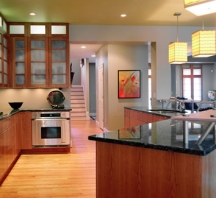 Also a minimalist style, the Asian kitchen evokes feelings of calmness and serenity by incorporating greens, browns, and neutrals - the colors of a Zen rock garden.
However, also with the peaceful colors, the kitchen is splashed with a few accent colors of red, which is symbolic for fortune and wealth in the Asian culture.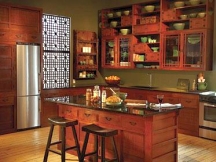 Using paint to achieve the Asian-themed kitchen is easy.
Paint the walls a soft blue or green, or a light neutral color as the backdrop. Then add in colors of solid brown by painting trim, doors and even wood tables (if not already a deep brown).
Complete the look by introducing some red accents via theme-related accessories.
Whichever style you ultimately decide upon, make sure that it is a style that you are personally happy with. After all, the kitchen is one of the most important rooms of the house, and should be an extension of your personal taste.
See Also: