Choosing the Right Color for Our Concrete Driveway
by Brendon Lee
(Christchurch, New Zealand)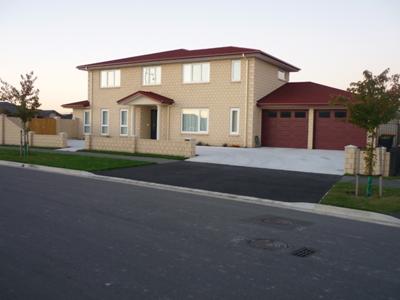 Our unfinished driveway
Dilemma:
My wife and I are indecisive on what colour our driveway should be.

Currently it's plain concrete white but because of the earthquakes in Christchurch, New Zealand, the insurance company decided to use a product called Covacrete (which is a grout-like material that goes over the whole driveway and you can choose colour and texture, or brick-like stencil finish, etc).

If you look at the attached photos, you can see that we've introduced too many colours. This wasn't originally planned during the build of the house as the materials used were non-standard.

For example, the vinyl front entrance door came in only white or dark bluish / black - my wife didn't like white so we went with the latter.

If you see the landscaping, the gravel is black where the flowers are to match the door. The twin garage doors could of been cream colour to match the brick cladding colour to give it some balance.

Our thoughts on colour of the driveway could be either cream to match the bricks, or a shade of red to match the red roof and garage door.

My wife thought that a colour that is not too dark or standing out may be best (she actually likes the white concrete as is) but since we can choose a colour, we thought it might be best to ask for some advice.

The concrete person suggested to go with 2 shades of grey colours and hand towel the whole driveway to give it a stone masonry look.
Critique:
Brendon, what an interesting dilemma!
I agree that the concrete looks too
white
and unrelated compared to everything else around it. The
brightness
of it stands out too much and chops up the ground plane into too many random-seeming colors and sections.
When I look at the photos, I see that the color of the road's asphalt (charcoal gray) in front of your house works great with the whole exterior color scheme, so in my mind the simplest and best solution for your situation would be to just repeat that for your entire driveway.
In fact, even the new asphalt at the entrance of your driveway would work better than the bright concrete, if you just extended it throughout (the color is a little too
black
and
heavy
now, but it will fade over time and look more balanced next to your home's colors).
---
Now, new concrete will also lose its brightness after a while and
may
blend in better at that point, but there is no guarantee you'll like it even after it's weathered.
So if your insurance company is paying for the driveway coating and you have a creative contractor to do it, the paving stone look is a good option to consider.
But instead of using 2 shades of gray, I'd suggest combining a little of the
beige
house color with a little bit more medium
gray
.
I'd look for that kind of coloring whether it was a paving stone look or not. The medium color gray would blend the driveway in with the landscaping stones a little more.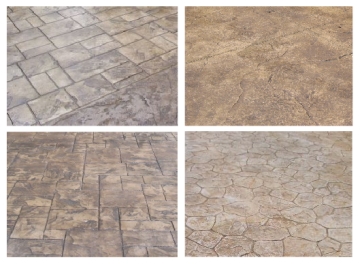 So...
1)
Look at some examples of "stone" coatings that your contractor has done and see if you like the effect.
2)
Get your contractor to show you some
samples
that you can put down outside and step back and look at. It's the only way you're going to get a feel for the color.
Here's why: like any horizontal surface, indoor or outdoor, it shows like a pretty large flat piece of color. So even if you're looking at a counter top or carpeting, you always need to stand back in order to see how the color will "read" after it's installed.
3)
And finally, don't try to get too "match-y"; go for a blend.
Hope this helps!