Removing Mold and Mildew Stains
In this tutorial, you will learn about removing mold and mildew stains, what causes growth of mildew on paint and the process for killing mold and mildew on the walls inside your home.
Mold and mildew spores are everywhere and there is nothing you can do about it.
You can, however, prevent them from growing to a point where they become visible and create a potential health hazard for you and your family.
Causes For Mildew on Paint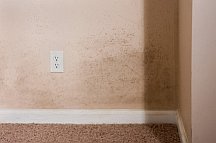 Mold and mildew spores thrive in darker, warm, humid environments and prefer porous substances like flat paints, wood and textiles.
If left unchecked for too long, they become very difficult to control and can even permanently damage and discolor many surfaces.
Many people complain about unsightly mold and mildew stains on walls and ceilings in their bathrooms, bedrooms, closets and kitchens. But, no matter how embarrassing this problem may seem, you must realize that simply repainting or cleaning mold and mildew stains off surfaces is not the solution. Without finding and addressing the cause, your problem will quickly and surely reappear.
So before you start removing mold and mildew stains from your walls, make sure there is no mold infestation inside your walls. If there is, not only will all your cleaning efforts go to waste, but you will also be jeopardizing your health daily without knowing it. Click here to find a mold testing company in your area
.
Killing Mold And Mildew On Paint
Improving ventilation and natural light, using dehumidifiers to control moisture levels, properly caulking your house to prevent rain from getting into the walls - these steps are a must if you want to get rid of mildew for good.
Then, once you've eliminated the source of the problem, here's how you can remove mildew stains from your walls:
Spray the affected area with a mixture of 1 part bleach / 3 parts water and let it sit on the surface for 10-15 minutes

Rinse the surface with water and let it dry

Apply 1 coat of anti-mildew primer and allow it to dry

Apply 1-2 coats of washable mildew-proof paint - its smooth, non-porous surface is hard for spores to attach to. Plus, this paint can be easily washed to remove dust, dirt and soil that accumulate on the surfaces and are common mildew foods.
Finally, even though most quality paints are mildew resistant, you may want to buy and mix 1-2 packets of mildewcide additive directly into the paint, to use in the most persistent mildew prone areas - for an extra protection and peace of mind.
Removing Mold and Mildew
Services:

See also: