Glossy/Matte Stripes Painted On a Black Accent Wall
by Vicki
(Mishawaka, IN )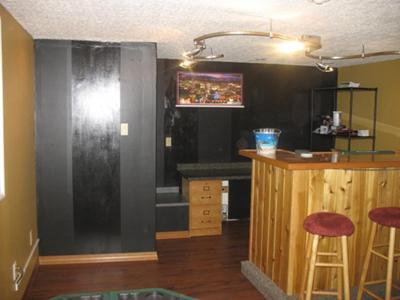 Wide black paint stripes in the basement
When planning to update the bar in our basement I knew I wanted to give it an updated Hollywood Glam sort of feel without spending a fortune. The first things I found, since I work in a furniture store, were the fabrics, furniture pieces, and some accessories that I knew were must-haves.


The next thing from there was to choose my paint colors. After finding paint colors we decided to do one focal wall in black which, in the glam style, needed to have some pop and pizzazz but not look cheesy.
Because one of the fabrics we chose was a very skinny matte/glossy gold stripe we choose to carry that look onto our walls.
We decided that since it is a fairly short wall they needed to be big stripes and glossy enough to bounce some light around but not detract from the rest of the room. We decided to center one stripe on one wall, and then center the other three on the other portion of the wall.
After painting the whole wall black with an eggshell finish we taped off the wall and applied a clear coat of Polyacrylic. It dried quickly and left us with very glossy stripes. We were thinking of doing a second coat but since it turned out so well we decided not to.
Since the pictures were taken we've added some great accessories but everyone that goes into that room notices the stripes first and even though they were super easy to do, they're still my favorite part of the whole room!
Click here to share your stripe painting idea and see your name in lights!