What Paint Color Will Lighten Up My Living Room?
by Bonnie
(Elkhart Lake, WI)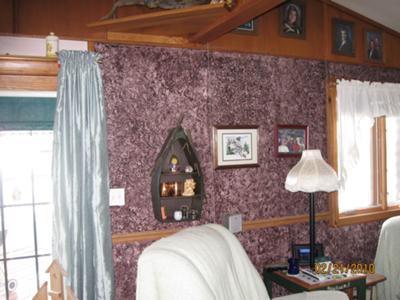 Any paint color ideas to make this room lighter?
My husband decided to paint the living room these colors a few years ago. I don't like the colors. The room looks too dark.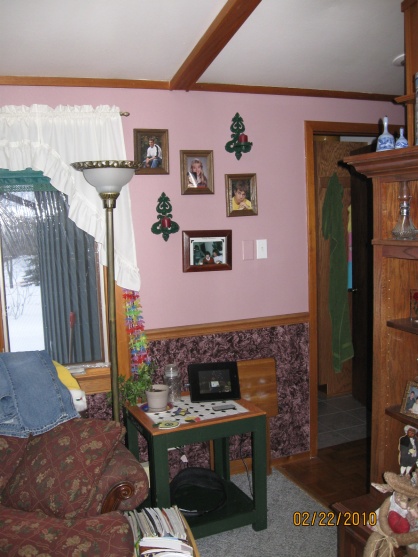 I just want to lighten the room and leave my woodwork alone. I will change the window treatments when I get a color for the walls.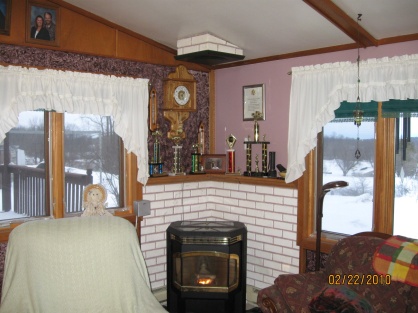 My pellet stove also has Z-brick behind it, which has been painted to match the walls. I need some ideas as to how to incorporate a color to match. Thank you.
Yelena's Response:
Hi Bonnie,
I agree - the color of the faux finish does make the room look darker.
***z-adsense-med.shtml***
But there is an even bigger problem here - both of your current paint colors look alien in the room.
You see, for a paint color to work, it has to be related to something in your existing decor. And there is nothing to tie your pink/mauve colors to here.
As a result, the wall colors stick out like a sore thumb.
Now take a look at the color combination I have selected for your room:
The colors are: 6127 Ivoire and 6129 Restrained Gold from Sherwin Williams.
Ivoire
can be used on the upper part of the walls, while
Restrained Gold
will look great under the chairrail.
These colors will not only make the room appear lighter and more cheerful - they will be in harmony with your existing room colors.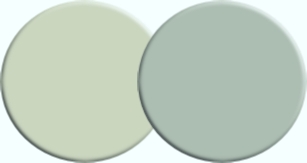 See how well these paint colors coordinate with your woodwork and furniture? There is a relationship between all the colors now.
Also, get rid of the faux finish - everything will look so much cleaner and more current.
For your Z-brick, just paint the grout with Restrained Gold to match the bottom part of your walls.
And finally, when you go shopping for new window treatments, try not to introduce any more new colors - look for something in gold/cream to stay within the color theme.
So, what do you think?
***z-c20-links-interior-color.shtml***