Important Tips and Facts About
Sherwin Williams Paint Colors
Below are some important tips about Sherwin Williams paint colors, Sherwin Williams interior paint color charts, Sherwin Williams colors' names, samples and swatches...
Psst! Don't have the time to sort through thousands of Sherwin Williams interior paint colors? Then head right over to the Paint Color Cheat Sheets page - there you can get instant access to the best paint colors from Sherwin Williams palettes!
What You Need to Know About Sherwin Williams
Paint Colors, Charts and Samples
SW Paint Colors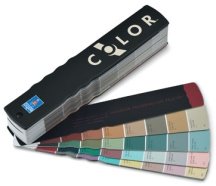 When choosing exterior paint colors for your home, keep in mind that some of Sherwin Williams colors are only available as interior paints. This is important to know when planning and coordinating your house color schemes.
So before you have your heart set on any specific color, first make sure that it can be ordered as an exterior paint. To check, look at the back of the paint color swatch - if you see an "I" in a symbol, you are out of luck - because this color is only suitable for interior use.
SW Gray Primers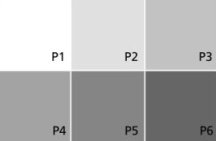 Certain Sherwin Williams interior paint colors require that you use a special gray primer first. This step is necessary to achieve optimum color results, and to reduce the number of paint coats needed for adequate coverage. Have you ever had to apply 5-6 coats of paint, but the color and finish still looked blotchy (often when painting red walls)? The right gray primer would have helped.
The primers in Sherwin Williams' Color-Prime system range from P1 (the lightest gray) to P6 (the deepest gray), and it's important to match the right primer with the right color.
To see if the color you selected needs a gray primer for best performance, check the back of the color chip. If you see "P1", "P2", "P3", "P4", "P5" or "P6" - you have to order the designated primer as well - just give the number of the recommended primer to the paint store clerk, and they'll know what primer formula to mix for you.
SW Paint Samples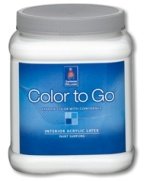 Here's an important fact you need to know about Sherwin Williams paint samples (Color to Go): they are not always accurate representations of the corresponding paint colors; they only approximate the actual colors.
There are two reasons for this: first, some Sherwin Williams paint colors achieve optimal color results only in gallon sizes (while paint samples come in quart-sized containers) - you can check the back of the color card to see if this is true for your particular paint color.
Second, the degree of sheen/gloss can (sometimes drastically) affect how any color looks. For example, Sherwin Williams paint samples come only in a satin finish. But if you are going to use a flat finish paint for the actual project, don't be surprised if the final wall color looks a little deeper/darker than the sample.
SW Paint Swatches
Sometimes the colors on Sherwin Williams paint swatches have different formulas. In other words, sometimes they are not just gradations (lighter/darker versions) of the same color - they may have different undertones as well.
This fact may become critical when you need to find the lightest shade of the same color (for example, you need a coordinating color for painting ceilings or woodwork, and you choose the one at the top of the strip), because sometimes the colors may clash, even if they come from the same strip in a paint deck.
Now this doesn't happen often in the main SW color fan deck, but still something to watch out for. And when that does happen, ask the paint store to mix a 10-20% tint of the original color for you - that way you can be sure that the colors will flow and harmonize.
SW Paint Charts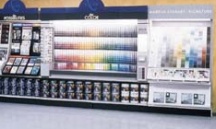 If you don't want to spend all day in a SW paint store drowning in the color selection, you need to learn how a typical Sherwin Willimas paint chart is organized. That way you will know which areas to focus on when choosing paint colors, and which to ignore.
On a store display, over 1,500 Sherwin Williams paint colors are grouped into 9 color families: reds, oranges, yellows, greens, blues, violets, cool neutrals, warm neutrals and whites.
Use these groups to narrow down your options: for example, if you are looking for a green paint color, focus on the green color group (when you need a bright green for painting a kids' room) or the cool neutrals section (when you want a subtle and sophisticated green for painting adult spaces).
In addition to color families, Sherwin Williams paint colors are also organized into collections based on the mood or lifestyle. So whenever you don't have a specific color family in mind, reach for these palettes - they will give you paint color ideas and suggestions.
Still seems like too much trouble? Then check out this shortcut to the most popular interior paint colors from Sherwin Williams.
Questions and Answers About
Sherwin Williams Paint Colors:
Here are some frequently asked questions about SW paint colors, charts and samples, and how to use them in your home for the best results:


See Also: