Problem Matching Paint Color to Accent Wall
by Jennifer
(Howell, MI)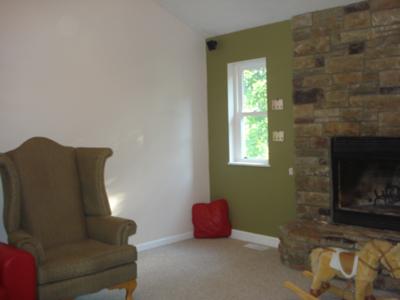 What color will look good with my accent wall?
I have decided to paint one accent wall in my Living Room a separate color than I would like the rest.
I am trying to figure out now what color would look good against the color I painted and flow through the rest of the room on a warm end.
I have brown infused with white carpet, red sofa's and a chair that is the same green I painted the one wall.
Do I have too many colors going on or can I pull it off with this punch of color to the one wall and do the remaining walls in a similar hue?
Please help - in desperate need!
Reply from Paula Pavlik-Douglas (our contributing expert):
Hi Jennifer,
Let's start with your brick fireplace.
Photographs can be deceiving, so if there's a lot of orange in your brick, try to stay away from that, because it will clash with your red furniture.
I'd go with a tan or brownish color, still keeping the brick in mind. This will also help avoid that "Christmas Year Round Look".
Red and green are opposites on the
color wheel
and a great palette to use, but if you don't soften the
saturation and tint or shade
, they look too strong.
Your accent wall color looks to be a pretty definite green, so I think the surrounding walls need a stronger color to create a better balance, and blend your brown flecked carpet in better.
Try Martha Stewart (available at Home Depot) MSL 076 Toasted Marshmallow:
...or if you're feeling bolder - MSL 079 Carton. You have red couches, you must feel bolder!
I always recommend people get a sample before they paint. You can get the color card from Home Depot or buy a sample pot. When you do, be sure to put the color on either side of a corner. This will help you get a better idea of the color.
If you're not planning on painting right away, put the sample paint on a piece of poster board and again, fold it into a corner so you can see the paint reflected off itself and judge better how it will look.
Good luck!