Problem Matching Paint Color to Accent Wall
by Jennifer
(Howell, MI)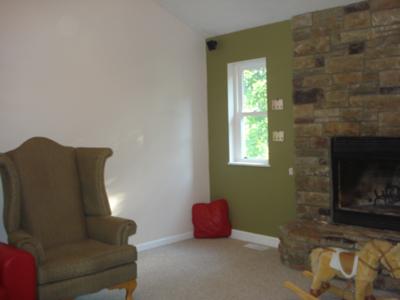 What color will look good with my accent wall?
Dilemma:
I have decided to paint one accent wall in my living room a separate color (green) than I would like the rest.

I am trying to figure out now what color would look good against the green I painted, and flow through the rest of the room.

The carpet is a very light brown; I also have red sofas and a green chair that matches the one wall.

Do I have too many colors going on or can I pull it off with this punch of color to the one wall and do the remaining walls in a similar hue?

Please help - in desperate need!
Critique:
Jennifer,
red
and green are a
complementary
pairing, so they do look great together. But the higher the saturation (or intensity) of the colors, the more this combination can look like Christmas year round.
To avoid this "very merry" effect and make your
color scheme
more livable, we need to "dilute" it with a
neutral paint color
on the remaining walls.
Luckily, your fireplace stone has plenty of
neutral shades
that will coordinate beautifully with your decor.
Just stay away from anything
orange-y
, because it will clash with your red furniture and the pillows.
Also, since your
accent wall
is a pretty definite
green
, the surrounding walls need a stronger color as well (something with substance, not too
light
) - to create a better balance, and connect your fireplace to the rest of the room.
For example, you can try
6142 Macadamia
from
Sherwin Williams
: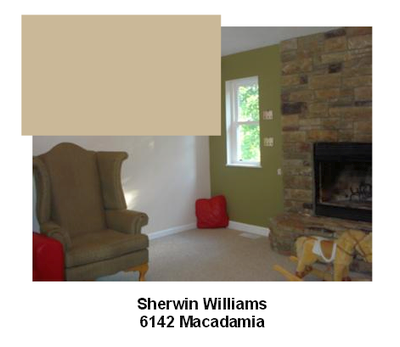 ...or
7528 Windsor Greige
if you want a
cooler
neutral:
And finally, I always recommend people get a
sample
before they paint.
Test the color
on a poster board and move it around the room to see how it looks on different walls and at different times of the day in
different lighting
.
Now good luck with your project!