NJ Power Washing Contractor:
AK Painting And Powerwashing

AK PAINTING AND POWERWASHING is a professional NJ power washing and painting contractor.
These 2 services complement each other very well because there is often a need to pressure wash the surfaces before painting, or paint, stain or waterproof them after washing.
What this means to you is that you only need to deal with one contractor from start to finish.

You may appreciate to know that we are fully equipped to complete any size power washing project successfully, on time, and with minimal interruption to your daily life.
But to better understand what is involved in the process and how to expedite the project, please see How to Prepare for Powerwashing.
Below is an overview of the NJ power washing services we offer to our residential customers.
Our NJ Power Washing Menu

House Washing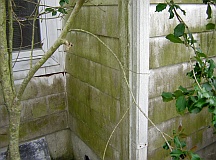 Dust, cobwebs and mold/mildew stains are not a problem if you don't wait too long to remove them, and with regular pressure cleaning you can keep your house looking like new much longer.
Pressure washing can be done on any substrate - vinyl siding, wood shingles and shakes, stucco, brick, aluminum and log houses.
Each substrate requires the right powerwashing technique, proper water pressure and sometimes the use of special surface cleaners for the best results.
Porch and Deck Cleaning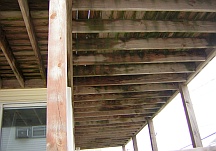 Decks and porches get a lot of foot traffic and become soiled very fast.
Professional pressure cleaning will safely and effectively remove the dirt, mildew and other stains and residue buildup, and take years off your deck.
Our services include washing and sealing wooden decks, as well as pressure cleaning vinyl, fiberglass and composite decks and fences.
Roof Washing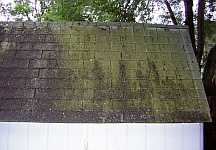 Lots of roofs "showcase" mold and mildew stains, or moss and algae overgrowth.
By washing roof shingles with low pressure and special cleaners, we can remove those contaminants, restore the curb appeal of your house and add years to the life of your roof.
Driveway and Patio Cleaning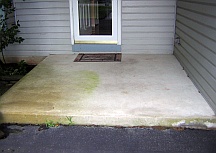 Foot and car traffic leave a lot of dirt and stains around your house.
We offer high pressure cleaning services for concrete, brick and stone patios, walkways and driveways, and can remove oil, rust and dirt stains from the surfaces.
You will be amazed at the before and after difference and enjoy walking barefoot much more!

What's the Cost of
NJ Power Washing Services?


See Also:

New Jersey Deck Cleaning: How We Do It

Stain Removal Tips From a NJ Powerwashing Contractor

NJ Painting And Powerwashing: Our Complete List of Services
New Jersey House Painting Company: AK Painting And Powerwashing