Who Should Do
Your Deck Cleaning:
NJ Pros or Yourself?

When it comes to deck cleaning, NJ homeowners oftentimes decide to just do the job themselves.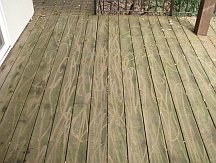 It seems like an easy and cost effective option in theory, but in reality it sometimes leads to quite disastrous results.
So before you roll up your sleeves, consider the following requirements for pressure cleaning decks without damaging the wood.
You may realize there is much more to it than just blasting the deck with water, and that in your case (if you don't have the necessary knowledge, equipment and technique) it may be smarter to hire a professional NJ power washing contractor to do the job.
Challenges of Deck Cleaning
NJ DIYers Should Think About:

Deck Cleaning Equipment
Do you have the right equipment for the deck cleaning job? If not, do you know which one to rent?
Some pressure washers are only useful for very light-duty jobs like washing cars and watering plants. They will help you rinse your deck of dust and litter but will not remove deep stains and grime buildup.

Other pressure washing machines are too powerful for wood cleaning. They can easily damage your deck so should only be used on hard surfaces like concrete and stone.
You also need to know the right setting and tip to use for cleaning your deck safely and effectively. Using a wrong tip or a wrong setting can scar the wood and lead to costly repairs.
And finally, you will need proper wand extensions and ladders if you have to reach the underside of a second-floor deck.
Operating a pressure washer is hard enough on the ground level, but controlling the spray wand when working from a ladder is even more challenging and dangerous, because the recoil may be too powerful and throw you off balance.

Deck Cleaning Products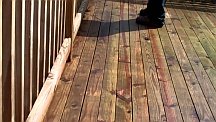 Do you have the knowledge of different deck cleaning products?
Each is usually best designed to remove one type of stain (grease, tar, mildew, aging wood discoloration, etc) - do you know which one to choose and how to use it?
Without using the right cleaner it's often impossible to remove deeper stains, and trying to do so may only cause wood damage.

But keep in mind that some cleaners are very effective for revitalizing wood, some are a waste of money, and yet others are plain damaging to the wood.

Deck Cleaning Technique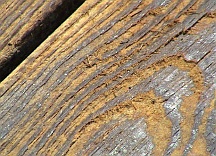 A high pressure washer can be a dangerous thing if you don't know how to operate it properly. The water stream can tear your skin and seriously injure yourself and others if not careful.
You can also cause thousands worth of damage to your deck (and adjoining surfaces) by using the wrong pressure, tip or technique.
A lot of decks pressure cleaned by homeowners or unskilled workers showcase wood warping, splintering, cracking and scarring. Some are accidentally stripped of the stain or paint finish.
Are you sure you are skilled enough not to cause the same damages to your deck?


---

If, after going through these requirements, you still feel confident in your ability to do a great job, go for it.
But maybe you've realized that you just don't have enough knowledge, time or desire to mess with deck cleaning. NJ pressure washing professionals are just a call (or a click!) away in that case.
After all, a deck is meant for parties and enjoyment, not to create more work to do in your free time when you should be relaxing.

Need a Quote for
Deck Cleaning in NJ?


See Also:

FAQs About Our NJ Deck Cleaning Service
Stain Removal Tips From a NJ Powerwashing Contractor
NJ Painting And Powerwashing: Our Complete List of Services
New Jersey House Painting Company: AK Painting And Powerwashing