FAQs About Our New Jersey
Powerwashing Service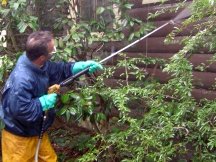 We get a lot of questions about our New Jersey powerwashing service.
And while every project and situation is different, some questions arise again and again.
Here we tried to cover the most commonly asked questions about pressure washing, so take a look - maybe you will find an answer to yours.
If not, we are just a call or message away!

Questions and Answers About
New Jersey Powerwashing:
How frequently should I have my house washed?

We recommend pressure washing your house every other year - that is usually enough for general home maintenance purposes.
But in some situations (for example, when the house is located in a shady, humid area or near a highway) power washing should be done more often (every year), because those locations encourage the growth of mold, mildew, moss and algae, or the accumulation of pollution and fuel emission residue on the buildings.
If you see any of the above contaminants on the exterior of your house, it's time for powerwashing.
Remember that the longer you allow the stains to remain on the surface, the harder (if not impossible) it becomes to remove them completely.
How long will the effect of powerwashing last?
The answer to your question will depend on 3 things:
1. The location of your house (see the question above).
2. The surface in question - walkways, driveways and decks get dirty faster than walls, because of the foot/paw/car traffic they get. Also, porous surfaces like untreated wood, concrete and brick absorb more stains and get soiled faster.
3. The process used - some situations require bleaches and surface cleaners to kill mold and mildew spores and inhibit their growth for a period of time. Also, it's important to finish the power washing process by sealing wood, concrete and brick surfaces - to protect them from stains and keep them looking clean, longer.
Can surfaces be damaged by pressure washing?
Absolutely! That's why it's so important that you use a professional New Jersey powerwashing contractor to do the job.
A high pressure water cleaning machine is a dangerous thing in the hands of a homeowner or unskilled worker. It can not only damage the surfaces, but also cause serious injury.
In the hands of a professional, it becomes a powerful tool for deep cleaning a lot of surfaces safely and effectively.
Do you use chemicals for pressure cleaning?
Where possible, and for general maintenance, we try to do without any chemical additives.
Some powerwashing projects, however, require extra cleaning power (mold, excessive mildew, grease/oil stains, etc). In those cases we use cleaning agents that are safe to use around plants, pools and pets.
Will my plants be safe during powerwashing?
We take extra care not to damage your plants and landscaping while doing the work.
If we find that some of your greenery obstructs the access, we will let you know right away. And in the future, try to foresee potential access challenges when planning your landscape design.
As far as the cleaners and bleaches go (if we have to use them) we use products that are gentle and safe for your plants.
Do I need to be present during the pressure washing?
The short answer is no. We do a lot of New Jersey powerwashing projects for out of state homeowners, and everyone is happy with the process and results.
The most important thing we need is access to water. But for more details on how to make sure your power washing project goes smoothly, please see "How to Prepare For Powerwashing".
How much does pressure cleaning cost?
Every power washing project is different - it's impossible to give an estimate based on size only.
The type of surface, its condition, ease/difficulty of access and other criteria must be taken into account, and for that we need to see the job.
With simple projects however, we can often give you a rough idea over the phone - all the estimates are fast, free and non-binding.
Looking for a New Jersey
Powerwashing Contractor?


See Also:

New Jersey Deck Cleaning: How We Do It
Who Should Do Your Deck Cleaning: NJ Pros or Yourself?
NJ Painting And Powerwashing: Our Complete List of Services
New Jersey House Painting Company: AK Painting And Powerwashing