FAQs About Our
NJ Deck Cleaning Service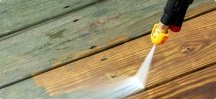 If you have a question about our NJ deck cleaning service, chances are, somebody else has already asked it.
So on this page, we've compiled a list of the most frequently asked questions about deck cleaning and maintenance.
See if you can find an answer to yours, or contact us directly to talk about your project.
NJ Deck Cleaning:
What Homeowners Want to Know

How often do you recommend to clean wooden decks?
The recommended frequency for power cleaning wooden decks is once a year (every other year if you don't use your deck much and your house is located in an airy, sunny area).
But you should always go by the condition of your deck. Does it have dirt, mold/mildew or tannin stains?
If so, then it's time to schedule your deck cleaning project - you don't want to delay and let those stains get deep into the wood fibers and leave permanent discoloration.
How long will the results last?
How long your wooden deck can look clean will depend on the amount of traffic and use it gets, and the location of your house (woody areas promote a faster growth of mold and mildew, for example).
But perhaps the most important factor is whether or not your deck was treated with a waterproof sealer or stain after cleaning.
Such sealers protect your deck from the moisture and elements, inhibit the growth of unattractive mold and mildew and prevent other contaminants from penetrating deep into the wood.
Clear sealers last for a year, while pigmented ones hold up to 5 years.
What stains can be removed from the surface of my deck?
Pressure washer cleaning can remove dirt, grease, algae, mold and mildew, tannin stains, bird droppings, insect feces and more.
For some stains, clean water and a pressure washer will do the job.
For others (especially if the stains are old and have had enough time to soak deep inside the wood) special wood cleaners will have to be used as part of the process.
Will my old deck look like new after pressure washing?
The transformation after power cleaning wooden decks can be amazing indeed.
But it's important to understand that when the contaminants have been sitting on the surface for too long and got too deep into the wood fibers, you cannot expect a miracle.
The wood that has been neglected for years may have discoloration that is impossible to remove completely even with wood bleaches and brighteners.
In that case, pigmented semi-transparent stains can help minimize the uneven wood color, and solid stains will hide it completely.
But if you prefer the look of natural wood, your best route is to maintain your deck with regular deck cleaning and sealing treatments.
Do you use chemicals for cleaning wooden decks?
We do when we have to kill mold and mildew spores, or when we need to remove deeper stains and revitalize neglected wood (if the homeowner wants to keep the natural look after powerwashing).
The products we use are safe for people, animals and plants.
Will my plants and flowers be safe during the deck cleaning process?
This question is answered in the FAQs About New Jersey Powerwashing.
How should I prepare for this project?
Please see How to Prepare for Powerwashing for complete instructions.
Do I have to be present while you clean my deck?
You don't, as long as we have access to an outside water supply. But please read our preparation instructions to cover all bases.

What areas do you serve?

We provide NJ deck cleaning services to homeowners in Cape May and Atlantic counties.

Looking for a
NJ Deck Cleaning Expert?


See Also:

New Jersey Deck Cleaning: How We Do It

NJ Painting And Powerwashing: Our Complete List of Services
NJ Power Washing Contractor: AK Painting and Powerwashing
New Jersey House Painting Company: AK Painting And Powerwashing