Neutral Wall Paint Color Ideas for a New House?
by Kevin
(Los Angeles, CA)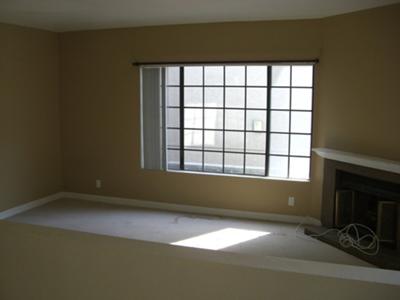 Living room and fireplace
I am in escrow on a property and the place needs new paint and carpets.
I plan to get hardwood floors, but do not know what color to paint the walls. I prefer something neutral. I also plan to add a sectional sofa and/or paint one wall with an accent color.
Any advice please?
Reply from Paula Pavlik-Douglas (our contributing expert):
Hi Kevin,
The "go-to" paint color for spec builders, real estate agents and designers all over the country is a Sherwin Williams color called Latte #6108.
It's very neutral but also not absent of color. It's a nice beige - the color of well, latte. Sort of.
What makes this color such a universal choice is the fact that it's brown/ beige but has a little gray to it, giving it a slightly taupe-y look in certain lights and that makes it go with everything.
You won't have trouble finding carpet or a couch that will work well with it, and because of the warmth of the color, it will blend easily with any kind of hardwood flooring.
My own personal fail-safe paint color is a Benjamin Moore color, Fairway Oaks #1075 for much the same reasons stated above.
It's got a little more depth or interest and nuance to it, and always reminds me of a camel color.
You know how everything goes with camel? Red, blue, gray. It's the same with this color.
Don't be afraid to go to a shade lighter on either of these two colors if they seem too deep, but since they're warm colors that shouldn't be a big problem.
Even in a room with low lighting a color in a medium range of value can work much better than a pale color, because a pale color can look shadowy in the corners.
These paint colors will easily transition into other areas with an open floor plan, and if you decide to try a different color in a small bath or guest room, it will be easy to find something to go with either choice.
But I'm not a big fan of the accent wall look. I find that frequently it just serves to make a space look choppy and smaller.
I know the accent wall is all the rage though, so if you must, try to chose a color that is closer in value (light/dark) to your main wall color, and then use that accent color elsewhere in accessory items to weave it into the room color scheme and not leave it just sitting on one wall all alone.