Timeless
Kitchen Design Colors
Timeless kitchen design colors offer many benefits: they are easy to live with, always "in" and attractive for potential home buyers when it comes time to sell your home. So what kitchen wall colors are timeless?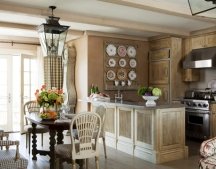 Kitchens really are the heart of the home, and today's modern open-concept floor plans make the kitchen even more prominent than ever.
So when planning your kitchen design colors, it's important to keep in mind the adjoining areas from where your kitchen can be seen - especially if the kitchen is open to other rooms in the house.
And since kitchen design and colors can greatly affect the future home resale values as well, a timeless kitchen color scheme is likely to appeal to a wide range of buyers.
There is do doubt that nature is where the best timeless colors are found. So when in doubt, look no further than to the great outdoors for inspiration. Nature inspired colors are easy to live with, and while they might not be on the year's trendy list, this is why they're timeless.
Earthy Kitchen Design Colors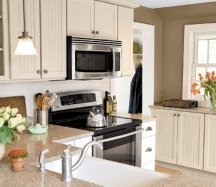 Natural colors found in the ground, such as soil, rocks and minerals, are always good choices to incorporate into your kitchen design. You simply can't get more timeless than with the muted variations of gray, rust, brown and cream that occur naturally in the Earth's rocks.
These earthy shades are especially recommended to use for permanent fixtures in a kitchen - expensive purchases such as flooring, cabinetry and appliances. Also known as neutrals, these colors are classics that you probably won't regret choosing after several years of living with them.
Wooden cabinetry encompasses a wide range of classic brown hues, while stainless steel appliances translate to the perfect shade of gray.
You'll never go wrong in a kitchen designed with natural stones, whether used on the floor, countertop or backsplash. Think of the many natural variations of colors in each slab of granite or marble.
These are classic earthy colors at their best.
Classic Kitchen Design Colors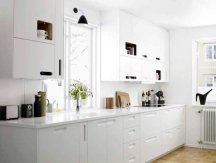 While a solid white kitchen may not be for everyone, it is a timeless design. White cabinetry is almost as appealing as wooden tones for the kitchen.
Keep in mind that many shades of white exist out there. If a bright sonic white isn't your style, consider using warmer shades such as antique white.
White appliances are still classic choices for many of today's kitchen designs, but stainless steel appliances are also good alternatives for an otherwise all white kitchen.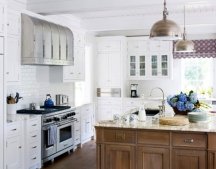 A classic white kitchen doesn't have to be void of color entirely. Consider using a flooring material that adds warmth to the room, such as wood or tile.
If you want your white kitchen to avoid feeling sterile or cold, add doses of color on walls, dishware, rugs and other accessories.
Think of the beautiful Wedgewood dishes, which are still highly collectible. This classic blue and white pattern of the dishes is timeless, and so blue is the perfect accent color in a white kitchen.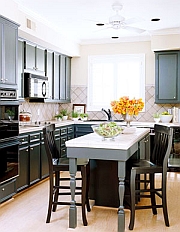 Black is also a timeless choice for kitchen designs. Black is a hugely popular color choice for granite countertops. Black appliances and cabinetry are also considered classic, but remember to keep balance - "overdosing" on black can quickly turn a kitchen into a cave. So when using black in your kitchen, it's best to keep the walls painted a light color.
For balance, surround the black with lots of white and light neutrals. To add some interest and variety to an otherwise black and white kitchen color scheme, introduce small splashes of other colors with accessories.
When properly designed, a black and white kitchen color palette is sure to stand the test of time.
Garden Inspired Kitchen Design Colors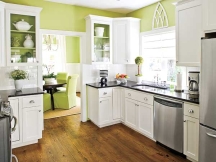 Nature inspired colors don't have to be in the brown family to be considered neutral or timeless.
Think of the wonderful shades of the foods you'll cook in your kitchen fresh from the garden. Use vegetables and fruits for inspiration in your kitchen design, and mix these with neutrals, shades of white, cream or black.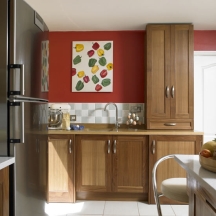 Green is a very popular color for kitchen walls; soft muted shades can even work great for cabinetry and kitchen furniture. Green shades with a hint of gray or soft yellow look very natural and organic.
When you turn to nature for color inspiration, you'll see that green coordinates well with every color imaginable. It truly can be used as a neutral in a home.
If tomatoes fresh off the vine or crispy Red Delicious apples are your style, you're in luck. A red kitchen is still a classic and timeless design for those that don't fear saturated colors.
Since red is considered a color that stimulates the senses and increases the appetite, it's an appropriate choice for kitchens, breakfast nooks and dining areas.
When designing your kitchen color scheme around red, remember that various shades of red exist and try to keep them in the same temperature. Red varies from cool to warm tones, depending on the formula used to mix it. Cooler reds have more blue in the mix and warmer reds have more yellow.
This subtle change can make a big difference in how coordinated your palette will look, so be sure to check that your reds are compatible.
See Also: