Choose a Paint Color & Decorate
the Old-Fashioned Way
How did people decorate and choose a paint color in the "good old days"? The advice in the article below (which was compiled from vintage homemaking magazines) is still valid today... see for yourself!
The Old-Fashioned Approach to
Beautifying a Home
Every time you choose a paint color, decorate or furnish your home, you express and disclose yourself.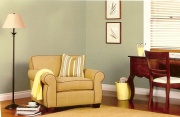 But it is your selection and arrangement of what goes into it that give it beauty and charm, not the amount of money you spend in its embellishment. A limitless bank account may permit you only to demonstrate bad and confused jugdement.
No home should be a slavish copy of another; neither should it look like a shopwindow. It should be a setting for those who dwell in it - a background reflecting but not overshadowing them.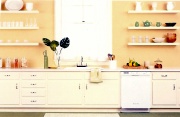 It should be a place in which they can relax and be themselves. Even vibrant people have difficulty competing with strong colors all the time, so the home should not be painted and decorated like a night club or a stage setting.
It should have a personal quality about it that reflects the woman particularly but that will be expressive of the entire family. And at the basis of this personal quality will be the home color scheme.
Choose a Paint Color
With Your Whole Family in Mind

Since the living room will be used not only by the family but by visitors, it is best to have it done in a complementary color scheme. As these schemes combine both warm and cool colors, they will prove most satisfying to everyone.
Bedrooms should be as restful and relaxing as possible. For this reason, a color scheme not too brilliant and not too complex is preferable.

If desired, the dining room may be more formal than the other rooms, always remembering that the table should be the focal point of the room.
A study or library should be painted and decorated conductive to study. The books will be a strong focal point of color.

Each room should have a definite personality, and reflect in a greater or lesser degree those who occupy it.
Often one will hear a homeowner complain that she doesn't like her home which has been done with great care and at much expense by a trained decorator. It is beautiful and follows all the decorating rules but it expresses the decorator and not the homeowner.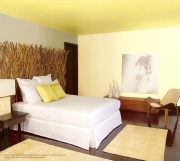 The colors may be intriguing but they may be the wrong colors for her. The furnishings and accessories may be perfect in every way but not at all suitable for those who live in the rooms.
That's why it is so worthwhile to learn how to decorate and choose a paint color for your own home. Because once you develop this skill, it will stay with you and serve you for the rest of your life.
See Also: