Beachy Exterior Paint Color Schemes and Painting Ideas?
by Lisa Hanna
(Panama City, FL)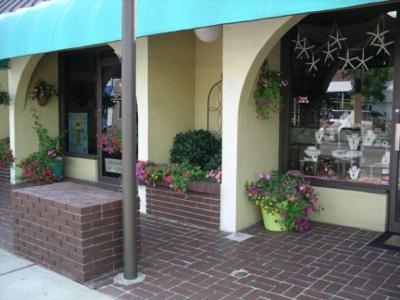 I need a new exterior paint color
Dilemma:
I am wanting to paint the building a new color.

You can see the awning is a teal color. More green in it than blue, and my bead sign is a pretty aqua with brown sea horse and letters.

I am thinking about a few colors I like but not sure if they will work: an apricot orange, the blue on the sign, a yellow-green like the plant pot, or just white.

I want it beachy. I have buildings on each side of me and they are close to my color. I want to separate me from them.

Hope the pics are good enough. Thank you.
Critique:
Lisa, you already have a beachy color scheme going on (
blues
,
greens
and a
neutral
sand color on the walls).
But in order to separate your building from the neighbors', we'll have to exaggerate the tropical beach palette and crank up the paint color.
First, let's take a look at the four colors you have in mind (
white
, blue, green, apricot
orange
), and then I will give you a new suggestion.
NOTE:
the colors are not exact - but they will give you direction and a good idea of what result you can expect.
White
walls usually look great with turquoise/aqua accents. But in this case, white looks
too clean
compared to the brick and
brown
metal, and seems too stark and out of place.
It also clashes with the neighboring buildings - it stands out, but not in a good way. If you soften the white and make it more cream to work better with the surrounding elements, it will blend in too much with the other stores.
Plus, white is not very practical, and can be a pretty high maintenance.
The
blue
color of the sign looks great with the brown
trim
and green accents, but clashes with the awnings and takes away from the sign.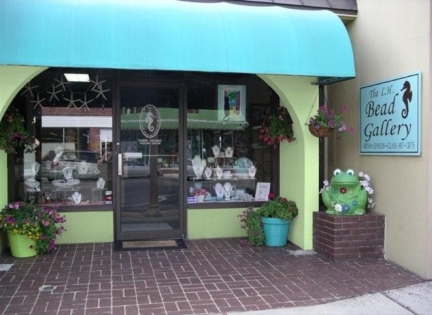 The
green
of the plant pot competes with the other green accents and doesn't look beachy.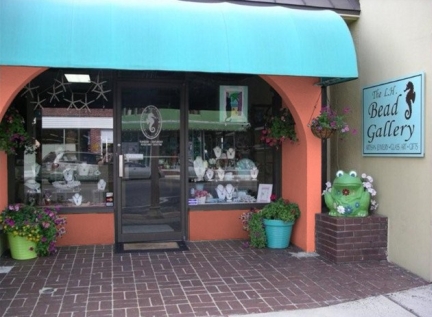 An apricot
orange
color can work but won't look as beachy/tropical as a deeper, more saturated coral shade I'm showing above.
Blue and orange are natural
complements
- they enhance and intensify each other, so your building is guaranteed to get noticed!
This color combination can look artisanal and ocean bottom inspired at the same time - depending on how you style it.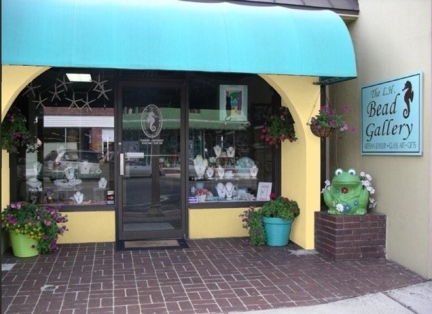 Finally, here's a new paint color idea for you -
yellow
.
Yellow
will work with all your existing colors, make the accents "pop" and create a very sunny and cheerful, exaggerated beachy palette.
---
So in summary, my recommendation is to use a shade of orange or a yellow for painting your store's exterior.
Both orange and yellow will coordinate nicely with your current color scheme, make your building stand out from the others, and grab attention (very important for a commercial building).
I hope this was helpful - let me know!