Need a Different Painting Idea for a Small Room
by Bailey
(College Park, GA)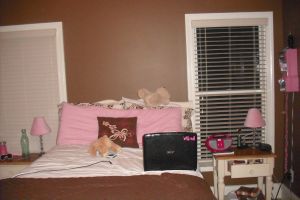 My pink and brown room decor
My room is decorated in pink and brown. I have my own bathroom and closet, and the room is very small.
What colors should I paint my room? I want it to be different.
Reply from Paula Pavlik-Douglas (our contributing expert):
Hi Bailey!
Well, everyone needs a little change every now and then...
***z-adsense-med.shtml***
I'm not a big fan of the "paint a small room a light color color" theory, but since you have a dark color now and also have white trim, I'm going to suggest a couple lighter colors that will be closer to the white trim, and that should give you a feeling of a little more space.
You didn't mention whether the decor (bedspread, lamps, pillows) was staying or going, so I'm going to figure it isn't, or that you'll be changing things gradually.
All the colors I'm suggesting are from Martha Stewart, her paint is available at Home Depot. She has some great colors.
MSL 002 Pink Sea Salt:
Paint everything pale pink, even the ceiling. You can leave the trim white though. This would be very pretty and kind of sophisticated, and a big difference from the brown.
You could paint your bathroom the same color, but paint the closet white. I think closets should always be white, so when you change your mind about the room color, you don't have to repaint your closet every time!
MSL 099 Calabash: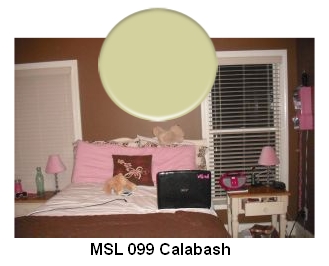 This paint color would be a little livelier, and you'd have to start introducing patterns or something that contain the green, pink and brown, but it could work.
I don't think I would put it in the bathroom though. It could be a little too much. For fun, you could put the Pink Sea Salt on the ceiling, (in which case, put it in the bathroom too).
MSL 119 River Mist: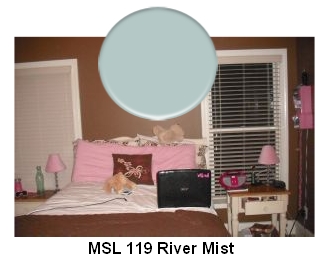 This is another more sophisticated type color. It would still look crispy against the white trim. I would leave the ceilings white too.
This color (because it is a little bit of a blue/green) could be used in the bathroom. The blue in the color makes it cooler, and cooler colors recede, or visually go into the background, making the room look a little bigger (maybe).
I would still look to incorporate some of it in the other accessories. Maybe with pillows, or get out that glue gun and put some teal colored ribbon around the lamp shades!
Hope this helps you get started. Go to Home Depot and check out the color cards first though.
***z-c20-links-interior-color.shtml***