Choosing the Right Colors
for Painting a Bathroom
When choosing wall colors for painting a bathroom, the most common concern is finding a color that will compliment a small room. There are many choices: from light to dark, neutral to vivid, subdued or saturated colors... and any can work in a small space.
There are endless possibilities when choosing a color for painting a bathroom. The most obvious step is generally the hardest: what color do you like?
The days of having a favorite color are far behind many of us, and there are so many different choices in paint, so how do you choose just one?
One way is to search for inspiration. Is there a favorite painting in your home or a throw pillow you love? Most everything in your home has color to it and most likely you chose it because it appealed to you.
You can also begin the color design process by buying accessories for the bathroom before you paint, and then coordinating your bathroom wall color with these (the easiest way is to just "pull" a wall color from them).
You may also want to consider painting the walls the exact opposite color of your décor; this will make your accessories pop or stand out. For example, blue towels will look vivid against orange walls; yellow shower curtain will look like pure sunshine next to a violet wall. Consult the paint color wheel to find an opposite for each color.
Generally, the first color you choose or think about is the one you like - trust your instinct.
Neutral vs. "Real" colors for painting a bathroom:
Grays, whites, and tans are always a good color choice for painting a bathroom. A neutral color allows you to shake things up every now and then and easily change your décor, such as towels and shower curtains, without having to take wall color into consideration.
Pure white and gray give the feel of a clean, crisp room. These are considered cool colors and are generally refreshing and energizing - both are good choices if you want to start your day awake and alert.
Tans that have a bit of red or yellow in them are what is called warm neutrals. These colors tend to be rather relaxing and calming - a perfect backdrop for the person who prefers an enjoyable soak in the tub after a long day.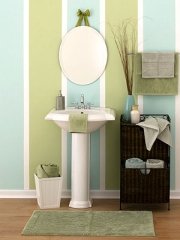 Taupe is an interesting choice in that it combines both gray and tan - this will be a moody color that will change throughout the day with the light.
"Real" colors (such as yellows, blues, greens, etc.) have more "personality" than neutrals, but it comes with its pluses and minuses.
On the plus side, "real" colors offer more freedom of expression and reflect your taste and creativity (or lack thereof) better. On the minus side, they can be rather difficult neighbors when it comes to introducing new colors to the space.
So the bottomline is, "real" colors can be more satisfying, but they demand a bigger commitment on your part that do most neutrals.
Light vs. Dark colors for painting a bathroom:
Generally people choose lighter colors for a bathroom because they feel it makes the space appear larger.
The truth is, the more monochromatic a room is, the larger it appears. And the more variation in color from wall to floor, trim and tile color, the smaller the room will seem.
Using one continuous color throughout a room is what makes it appear larger.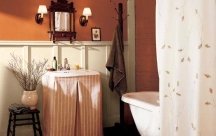 Picking a lighter color works well when you are trying to create the illusion of a larger space only when trim and fixtures are also light colored.
So when choosing how light or dark to paint your walls, keep in mind that it's the contrast - not so much the actual color - that changes the feel of the space.
For a larger, open feel, match wall color to trim, tile and floor color. For the feel of a cozy, smaller space, choose a color much lighter or darker than your existing tile, woodwork and fixtures.
Bold vs. Muted colors for painting a bathroom:
Now that you've settled on your bathroom paint color and what you want to accomplish with the feel of the space, you'll need to refine your choices down to just one swatch.
Picking either a bold or muted shade is usually the next decision. Think of a lemon compared to butter: both yellow, but two completely different feels.
Muted colors are the "butter". These usually contain gray, black, or brown to tone down the hue.
Historic colors are generally less vivid in this way. Muted colors have a lesser effect on the feel of warm and cool, and they usually create a feel of less contrast. Choosing a color from a paint company's historic color chart is a good decision if you are afraid of using too bright of a color.
Vivid, saturated colors, or your "lemon", make the walls the main focus. The eye is drawn to brighter hues and the effects of warm or cool are felt more in a saturated color.
These paints are made with a larger amount of tint and are more likely to contain pure color without the addition of neutral tints to tone them down.
Vivid colors are a good choice for someone who loves the look of color and finds neutrals too plain.
When choosing a vivid color, keep in mind that pure reds and yellows cover worse than other colors. You may want to choose a very high quality paint and use a special primer (ask the paint store for a recommendation) to save yourself the trouble of having to put 5+ coats on the wall.
Choosing the right color for painting a bathroom is easy once you've decided how you want the room to feel. And if you follow the few guidelines on this page, you too will create the perfect feel and the right mood for your space - whether it's calm and cozy, or refreshing and invigorating.
See Also: