How to Make a Room with Non-White Painted Trim, Lighter
by Extremely Frustrated Anonymous
(Dallas, TX)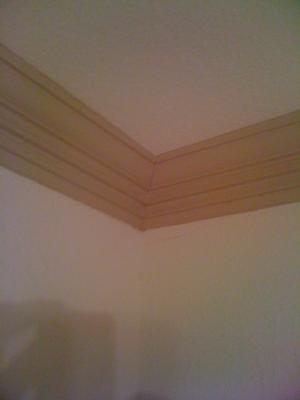 Woodwork painted a tan color
Greatly in need of some advice. We purchased our home four years ago from a builder that painted all of the interior trim a putty/tan/sand color. No idea why he didn't select white.
***z-adsense-med.shtml***
Anyway, it looked okay with the original wall and trim color it was painted because the house received lots of natural light, but that was before a three story home was built next door to our duplex and blocked all direct sunlight into our windows.
We would like to brighten our interior but are having problems with the trim. To have the trim repainted white throughout our house (2700sq.ft) with crown molding everywhere and doors painted same as trim, is looking to be very expensive. The estimates we have are more money than we would care to spend.
Is there any color that we could paint that would give us a crisp bright look without having to paint all of the trim?
FYI - we hate the light yellow/yellowish white on the walls and ceilings that the builder used.
Could we keep the trim color and just paint walls and ceiling white? Or would that look odd?
Any advice would be appreciated. Hating that we bought the house without considering the expense to redo the trim color.
Thanks.
Yelena's Response:
Dear Anonymous,
it looks like the builder's designer chose this tan paint color to highlight all the beautiful woodwork in your new home.
Now as far as your dilemma, here's the thing:
First of all, no paint color will
add
light to your rooms. Only natural and artificial lighting can add light to a home. Please see
"Choosing Paint Colors for Dark Rooms"
for more details - it will be an enlightening read, I promise :)
Second, the only thing you can control in this situation is how much of the
existing
light the wall paint color will absorb, and how much it will reflect back into the room.
And if you want the walls to reflect the most light, choose a paint color with a Light Reflectance Value of about 80% or higher (you can find this info on the back of a paint card).
By the way, yellow is the only color that is
as close to "adding" light to a space as you can get with paint colors. Because it is the most
luminous
color of all, it can often create an
illusion
of more light.
But since you hate yellow, let's look at your other options (aside from adding more lighting sources).
To keep the LRV (light reflective value) around 80% or higher, you need to look for your new wall paint color among whites and colored tints.

Pure
white
will reflect about 85% of the existing light back into the room, and absorb only 15%. But it will look too stark/harsh next to your woodwork. Plus, since you don't have much natural light in your home, pure white can look somewhat gray from all the shadows.
So if you want to paint your walls and ceilings white, choose a
soft shade
instead - for example, SW7012 Creamy (from Sherwin Williams, 83% LRV). It will look warmer and coordinate better with the tan color of your trim, moldings and doors.
And here are 2 suggestions if you want some
color
on the walls: SW 6427 Sprout (a very pale green tint) or SW 6476 Glimmer (a pastel blue) - both have an LRV of 79%.
NOTE:
see these colors in person - computer monitors often render colors very different.
But before you decide to use any of these colors for repainting your home, first try to find the name/number of the yellow(ish) color you currently have on your walls, and check its LRV number. Compare it to the LRV of the colors I suggested here to see if it makes sense changing the color.
You might find that your wall color has a higher LRV than my suggestions. In that case, go to a paint store and look for an equal or higher LRV paint color you can find that will look right in the setting of your home (not in the store).
Or just keep the existing walls color.
Sorry to be the bearer of bad news, but hope this was helpful :)
P.S.
You might also want to use an eggshell sheen for the walls - it reflects more light than a flat finish, while still looking aesthetically pleasing.
***z-c20-links-interior-color.shtml***