Charles W. Nash House - Exterior Painting and Restoration Project (1890 Painted Lady Victorian)
by Dustin Van Fleet
(Adel, Georgia, United States)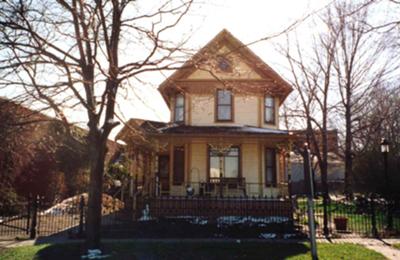 Before
This 1890 (Flint, MI) Queen Anne Victorian was painted in five different shades of Behr paints - with the dominant color being pink, yes I said it pink.


The other colors included Hot Pink, Navy Blue, Baby Blue and Ultra Pure White.
I decided on pink as my predominant color because this was one of my first homes I designed.
I had a willing homeowner who saw my vision and I wanted to make this home a bold statement that I had arrived in the design world and was here to stay.
My design inspiration was to create the look of a real life whimsical doll house that would turn heads and take notice.
To me this house always looked whimsical and just needed to be painted in the proper colors to gain designation as not only a State of Michigan Historic Site, but also a National Historic Registry and a true Painted Lady Victorian.
My "style" or "reputation" is one of bold color selections applied in a tasteful manner. This reputation has carried me a long way and keeps me striving for a new fresh look with new fresh colors.
I certainly achieved my goal of turning heads with the whimsical nature of the house. I also gained a lot of media attention off the Charels Nash House, not to mention the house became one of the "most" photographed houses in Michigan.
The Nash House was the reason Van der Fleet Restoration and Design was created. All of my current inspiration and project designs were born from the Nash House.
I had a dream, I fulfilled a dream and I created an awesome career off this dream.
The Charles W. Nash House will always hold a special place in my heart even though I am 1,000 miles away from it at this point in my life.
This was the house that all my talents and ambitions were born from, and the house that took me from a no name younger designer with talent and heart but no real reputation, to gaining my current reputation of being the self proclaimed king of color.
It is sometimes hard to believe that all of what I have today and the numerous projects I have done since the Nash House all came to fruition because of the Nash project and a dream I had years ago.
I have come a long way from Flint, Michigan and even further as a designer, but am still proud of my humble roots in a most humble city.
Keep Dreaming, Reaching and Striving,
Dustin Van Fleet
---
Van der Fleet Restoration and Design
Dustin W. K. Van Fleet (Owner)
309 East Fourth Street
Adel, Georgia 31620
813 545-1698 (Cell)