7 Best Sources for Finding
Great New Jersey
Painting Contractors
So here are the top 7 places we recommend (rated from good - to great - to the best):
#7 - Painting Trucks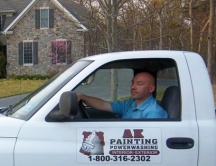 If you keep seeing the same painting company's truck in your neighborhood, consider it a good sign.
What it often means is that the painters are doing a good job, getting more work through the word of mouth, and as a result, keep coming back to do other projects in your area.
Besides, professionally marked painting vehicles can also help you quickly separate real New Jersey painting contractors from moonlighters who are here today, gone tomorrow.
#6 - Print Advertising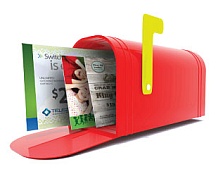 It takes time, effort and money to launch a direct mail campaign. But what does it mean to you, the homeowner?
Lets see:
First, established and financially sound painting companies are probably the only ones who will be willing or able to repeatedly contact you by mail.
This means you can feel more comfortable paying that deposit and not worry about the painter running with your money.
Second, it's reasonable to expect that, after investing time, effort and money, the painting contractor will show more diligence when it comes to following up, and will actually return your calls.
And third, receiving a direct mail piece in your mailbox pretty much guarantees that you will not waste your time calling the painter only to find out that they don't serve your area.

It's the same with advertising in magazines and newspapers.
The high cost of display ads often serves as a filter that leaves only serious New Jersey painting contractors who are truly committed to their businesses, and keeps everyone else out.
And don't forget about the money-saving coupons that are often included with the listings!
#5 - Company Website

Searching the Internet for local New Jersey painters and looking at their websites can be a great way to help you decide who is worth your consideration.
You can usually find out much more about the company you are considering from their website than from any ad.
For example, you can find information about the people who run the company and the painting services they provide, see before/after project photos to get an idea of the work they do, and read customer testimonials to get a feeling of what kind of service you can expect.
#4 - Jobsite Signs and Neighborhood Flyers
Oftentimes, painting contractors will put up a lawn sign and/or distribute flyers in the same neighborhood, with the address of the property they are working on.
That gives you a chance to drive by the house and see the final result, watch the painters at work or even talk to the homeowners if you happen to know them (most people will be willing to share their feedback and experience with the painter even if they don't know you personally).
#3 - Paint Stores

Paint stores can be a good source for finding trustworthy painting contractors because they closely work with many painters, and keep track of their reputation.
So simply ask the paint store clerks if there is someone they can recommend for your particular project, and they'll be happy to do that.
Usually you can also find out a lot about the owner of the company you are considering for your project, their work ethics and the people they hire, their customer satisfaction track record and much more!
Just keep asking questions.
#2 - Angieslist.com

Unlike many other reviews sites, Angie's List is supported by consumer members, so there is no conflict of interest, and the reviews are by real people, often from your own neighborhood.

Here you can read about other people's experiences (the good, the bad and the ugly) with various painting companies in your local area and choose the painter with the best reviews.

It costs a small yearly fee to join and get access to all the reviews, but it's worth it if you have just moved to the area and don't know anyone.
#1 - Personal Referrals

We've covered a lot of great ways to find quality New Jersey painting contractors, but the best one is still a referral from a friend, good neighbor or family member - someone you trust and who has your best interest at heart.
Not only do you get to learn about their experience with the contractor, how the work progressed, their concerns or regrets and so on, but you also have a chance to check the actual quality of the work for yourself.
We all have different quality standards, and what's great work for one person can be subpar for another.

And if a picture is worth a thousand words, then being able to see the final result "in person" is priceless.
Looking for New Jersey
Painting Contractors?


See Also:

Should You Hire a NJ Painting Contractor or DIY?
Checklist to Compare New Jersey Painting Contractors
New Jersey House Painting Company: AK Painting And Powerwashing
Guide to Choosing the Best Painting Contractors in New Jersey