Hiring a NJ Painting
Contractor vs DIY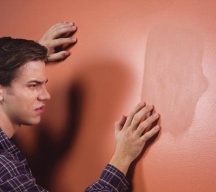 Can hiring a NJ painting contractor really be cheaper than doing it yourself?
It can be - if you lack the necessary knowledge, skill and equipment necessary to properly DIY your home improvement painting project.

Because without the above 3 ingredients, homeowners often end up:
wasting their time and energy on a project they can't finish;


wasting their money and materials with only embarrassing results to show for it;


damaging the surface and making the original problem worse.
Of course, there are people who do excellent DIY work, but the question is, are you one of them?
Answer the following questions honestly and consider the level of skill and resources that are required for beautiful and lasting results.
You may well realize that hiring a NJ painting contractor is a far smarter (and often cheaper!) option than trying to handle the job yourself.
Reality Check: What Can a
NJ Painting Contractor Do
That You Can't?
Do You Really Have Time for House Painting?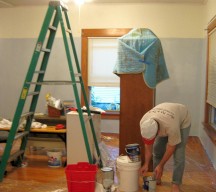 The reality is, most people's house painting education consists of only watching home improvement TV shows.
As a result, they seriously underestimate how long things actually take, and how hard it is to do them.

Those shows are designed for entertainment and inspiration only, not to teach you how to paint.
But homeowners often take them too literally, including time frames and project costs.
Then they get unpleasantly surprised because in reality everything is more expensive, more difficult and takes much longer than they show on TV.

For example, most people think that painting a room takes only a day at most (some even imagine it's an afternoon project).

But look how many steps it actually takes:
clear the work area (re/moving furniture and decorations)


protect the surfaces (floors, furniture, etc)


set up the work area (ladders, tools and materials)


prep the surfaces (caulking, spackling, sanding, cleaning, priming)


cut in the ceiling and walls with a brush (twice)


roll the ceiling and walls (twice)


tape off the woodwork


brush the woodwork


remove the tape


touch up the paint


remove protection from the floors/furniture


clean the tools and any dust/spatters


put back the furniture and decorations

In reality, it takes a NJ painting contractor 1 full day to paint an average room (ceiling, walls and woodwork).
And we are talking about a professional here! Homeowners can safely multiply that number by 3.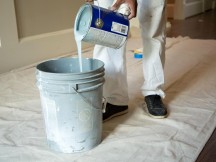 Why?
Because a pro painter knows what he is doing, has the right tools and materials for the job, and has an efficient routine for the entire process.
A pro also knows how to sequence the work in a way that minimizes waiting times (for the spackle, caulk and paint to dry between coats), can use fast-drying materials, and even skip some steps (like taping things off).

Homeowners usually can't do that.

So even something as simple as covering the floors and furniture that takes a painter 15 minutes, can often take a homeowner an hour to do.
The difference adds up with each task, and before you know it, what was supposed to be an "afternoon project" has turned into a week-long mess. 
Is house painting really the best use of your time? Or will you be better off spending that time making money and relaxing with your family?
Can You Really Do a Good Job?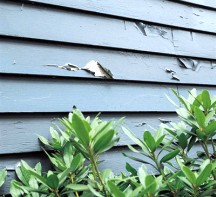 Again, home improvement TV shows make it look so easy, it seems even a cave man can do it!
But in reality, even the best tools and materials can only do their magic in the hands of a professional. 
We shudder to think of all the disasters we had to correct as a result of a homeowner who underestimated the difficulty of the job and decided to DIY.

Here are just a few that come to mind:
water based paint applied over oil based paint
(which always results in peeling and blistering)


painting over bare wood
(such a job lasts only a couple of months at best)


painting over stains and water leaks
(they reappear within days)


not using special primer when applying deep colors
(even after 5 coats the paint still looks blotchy and messy)


using the wrong type of caulk
(not all caulks can be painted over)


not removing old failing paint properly
(the new paint falls off with the old one)


using the wrong tape
(which allows the paint to seep under or rips the paint off when removing it)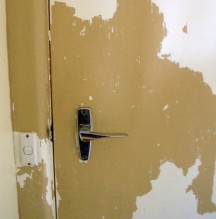 But when homeowners then try to correct the problem they've created, oftentimes it gets even worse, because with each additional coat of product the mistakes accumulate, and can eventually get to a point where the surfaces cannot be repaired and must be replaced.
And what's ironic is that they still end up hiring a professional NJ painting contractor, only this time they have to pay several times as much just to correct the condition they caused themselves.
Ouch.

It's impossible to do a long lasting, quality paint job without specialized tools and equipment, right materials and proper skills that usually come from years of experience.
And most of the time, homeowners have none of those.
So instead of saving some money by doing their house painting projects themselves, homeowners unknowingly damage their property and contribute to its aging and decreased value.
Many people say they believe in the philosophy: "Do what you do best and leave the rest to professionals". We just wonder why, then, they act as if house painting is an exception to the rule...?
Will You Really Finish the Project?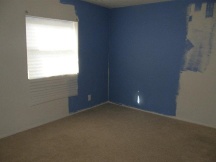 Some homeowners are serial DIYers.
They eagerly start new projects but stall and abandon them as soon as their schedule gets busy, or when they get bored with the job, or when they encounter a challenge they didn't expect.
As a result, their homes are full of unfinished projects that were started months or even years ago, and they often get completed only after a professional painter is called for help.

This unfinished business not only makes your home look unattractive and drains your attention, it can also cost you more money than necessary.

Here's how:
If you think that you will save some money by doing part of the job yourself, and hiring a painting contractor just for the final part, you are making a mistake.
It is much easier for a house painter to do the work from start to finish than to pick up where you left off.
That's right - touching up and finishing up somebody's work often takes as much time as doing the job from scratch.
Why?
Because the house painter now has to assess the situation, correct the mistakes you've made, and figure out which of the steps have already been done and what to do next. That interrupts his normal efficient work sequence and wastes a lot of his time.

So after spending time, energy and money on the job that is half done, you end up still having to pay a professional who will charge you as if nothing has been done at all.
Such a waste of your resources, which could've been avoided had you hired a professional NJ painting contractor right from the start. 
Need a NJ Painting Contractor?

See Also:

Painting NJ Houses: It Can't Be Cheap, Fast and Good
How to Recognize a Quality New Jersey Painting Contractor
New Jersey House Painting Company: AK Painting And Powerwashing
Guide to Choosing the Best Painting Contractors in New Jersey