How to Make a Room with Non-White Painted Trim, Lighter?
by Extremely Frustrated Anonymous
(Dallas, TX)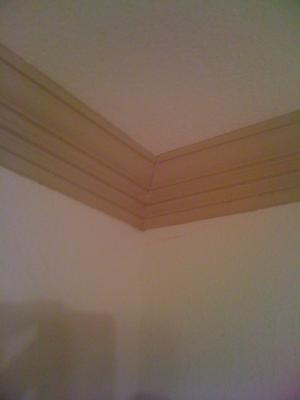 Our woodwork painted a tan color
Dilemma:
Greatly in need of some advice. We purchased our home 4 years ago from a builder that painted all of the interior trim a tan color. No idea why he didn't select white.

Anyway, it looked okay with the original wall and trim color it was painted (because the house received lots of natural light), but that was before a 3-storey home was built next door to our duplex and blocked all direct sunlight into our windows.

We would like to brighten our interior but are having problems with the trim. To have the trim repainted white throughout our house (2700sq.ft) with crown molding everywhere and doors painted same as trim, is looking to be very expensive. The estimates we have are more money than we would care to spend.

Is there any color that we could paint that would give us a crisp bright look without having to paint all of the trim?

FYI - we hate the light yellow/yellowish white on the walls and ceilings that the builder used.

Could we keep the trim color and just paint walls and ceiling white? Or would that look odd?

Any advice would be appreciated. Hating that we bought the house without considering the expense to redo the trim color.

Thanks!
Critique:
Dear Anonymous, it looks like the builder used this
tan paint color
to highlight all the
beautiful woodwork
in your home.
But as far as your dilemma, you have 3 options to choose from (if you don't want to
repaint the trim
):
Option #1 - more light
No paint color will
add
light to your home; only
natural and artificial lighting
can do that.
So the first thing to try is to use more lamps - especially in the rooms/areas you spend the most time in.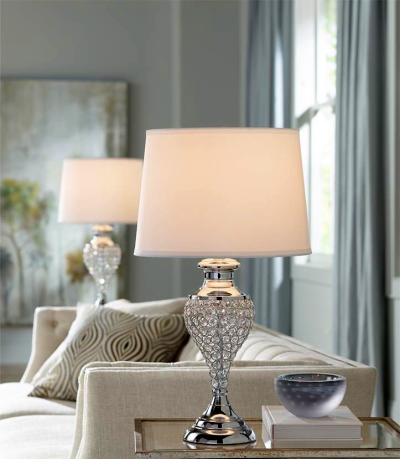 "A lamp in every corner" is a go-to solution for
interior decorators
when dealing with a poorly lit space, and it's a good rule to follow in your case as well.
This is the cheapest and easiest fix for your problem because it doesn't require you to repaint anything at all, and maybe it will be all you need to be happy with your home again.
Option #2 - more reflection
While you cannot add light with paint color, you can control how much of the
existing
light the wall paint color will absorb, and how much it will reflect back into the room.
So if you want the walls to reflect the most light available in the space, you need to choose a paint color with the highest
Light Reflective Value
possible (you can find LRV info for every color in a
paint deck
).
And since you already have a very
light color
on the walls, the color that would be even lighter (and considerably so, to make it worth your while repainting the whole house) is bright
white
- like
High Reflective White
from
Sherwin Williams
.
It has an LRV of 93%, which means it absorbs only 7% of the light and reflects most of it back into the room. This white is really bright and it will definitely lighten up your house, but you may not like the way it looks.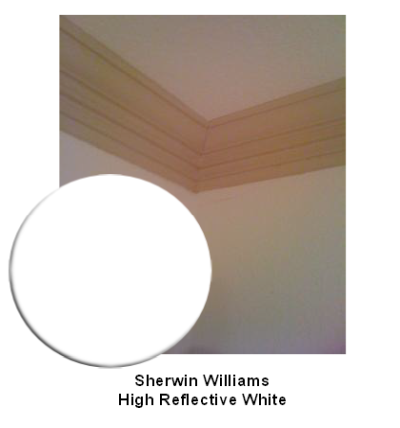 You see, bright white doesn't work with all colors and decors, and in the wrong context it can look very out of place - too clinical or like unpainted primer. But anything duller than that (e.g. off-white or cream) and you won't see any difference from your existing situation.
I don't have any photos of your decor, so only you can decide if this option will work in your home. But I can already say I'm not a fan of the bright white and tan combination it creates with your woodwork (looks
too harsh
on its own, without a supportive context).
Option #3 - more ambiance
This brings us to my favorite way of solving the light problem - creating ambiance with color.
Rather than trying to recreate the light you lost, why not work with what you have now?
Right now all you see is darkness and gray shadows in your home - which is exactly what happens when you don't have enough color on the walls.
The lack of color makes you fixate on the lack of light, and not realize that the right wall color could give you the look and feel you are missing.
For example, take a pale
blue
tint like
Glass Slipper
from
Benjamin Moore
- it's fresh and crisp like you wanted, it works with your tan woodwork, and it can create a pretty backdrop for you to focus on (and potentially to make your decor look even better).
A color like this won't make your home lighter, but it will
infuse it with atmosphere
- and this is what we ultimately want for our homes, don't we?
P.S.
You can use the same pale blue color on the
ceilings
or a bright white, and then combine this option with Option #1 (more lamps) for even more ambiance and mood.