Finding the Best Colors
to Paint a Room
Many people are perplexed when it comes to finding colors to paint a room. This is not surprising - with such an array of choices, choosing the right paint color can sometimes seem like trying to find a needle in a haystack. So where do you even start?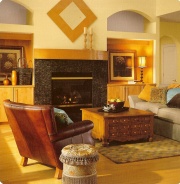 First of all, the phrase "choosing a paint color" is a misnormer. Because in reality, we are not looking for a single color - we are trying to come up with comprehensive interior color schemes. We want a paint color combination that will tie all the elements of our decor together in a harmonious way and serve as a "bonding agent" in the living space.
So it's not about any one particular paint color, it's about the relationships between all the colors used in the room.
Context - that's what you should focus on when looking for colors to paint a room, because the same color used in a different context will result in a totally different look.
Here's a great quote from Albert Kornfeld:
"There are many people who can cook wonderful dishes, but when it comes to creating an interesting, well-balanced, attractive menu, they are wholly inept. Have you ever eaten an all-creamed meal? Or an all-fried one? Such menus are comparable to rooms in which colors have been used without regard for each other.
The success of any color scheme - regardless of what you base it on - depends on how well different colors are combined and on the proportion of each color used."
So How Do You Decide
What Colors to Paint a Room?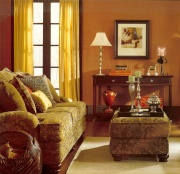 Some people have a gift for picking paint colors, while others have a really hard time with it. If you are in the second group, don't feel intimidated. You can achieve really professional results by pulling paint colors from your existing decor elements.
Or, you can use a color wheel as a guide. Knowing some basic color theory and understanding how different colors interact with each other will help you to make color choices that go beyond your gut reaction to a color scheme - although that is also hugely important.
Successful designers and interior decorators can go as far as "re-inventing" the color wheel. They can give old colors a new twist by using them in fresh and different ways.
But you don't have to try and compete with them. To gain confidence in your own abilities to create beautiful color combinations, follow the proven "formulas" that a color wheel offers. Because after all, we are not here to become famous designers, all we want is to find relevant, appropriate colors to paint a room and be proud of the results!
Once you get the basics down and have some experience under your belt, you can break away from all the rules. Until then, a color wheel can be a big help when choosing interior paint color combinations for your home. The formulas/schemes will give you ideas, direction and a great starting point to begin experimenting with possibilities. They will also help you "de-code" successful color pallettes you might come across in a magazine, on TV or in a friend's home and understand how and why those colors work together.
Using a Color Wheel to Find Ideas
for Colors to Paint a Room
Click on the photo captions below to see examples of using a color wheel to compose different interior color schemes for painting and decorating your home.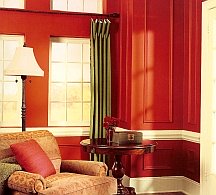 Complementary
Interior Color Scheme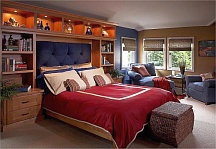 Triad Interior
Paint Color Scheme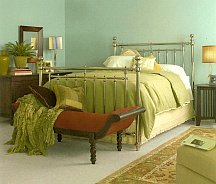 Split Complementary
Paint Color Combination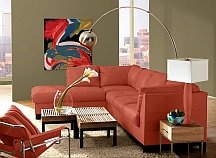 Double Split Complementary
Home Color Scheme
See Also: