Triad
Interior Paint Color Schemes
Triad interior paint color schemes are very popular among artists, because they offer strong visual contrast while still looking balanced and rich when composed properly.
How are Triad interior paint color schemes created?

This interior color scheme uses 3 colors evenly spaced around the color wheel.
In other words, if you combine every fourth color on the color wheel, you will get a Triadic combination.
For example, yellow, red and blue, or orange, green and violet make up a Triad.
Similar to Complementary interior color schemes, a Triad color scheme is intrinsically vibrant and very contrasting. The possibilities it offers are nearly infinite. But since the colors in the scheme are placed so far apart from one another and are not connected by a common denominator, they tend to compete for attention.
Truth be told, this interior home color scheme is probably the most difficult one to get right. The diversity of colors within the scheme does not guarantee harmony - in fact, this palette can look really discordant when its colors are used at or close to their full intensity. The end result can range from subtle to lively to gaudy, so the success of this scheme will really depend on your ability to carefully balance and subdue this bold and colorful mix of hues.
Examples of Triad
Interior Paint Color Schemes
Here's a good example of how strong colors can successfully co-exist together. This interior color scheme is based on orange, violet and green, with the emphasis placed on orange.
The violet is significantly lightened up on the walls, and toned down on the woodwork, while green appears only on the wall art.
This room employs the same color scheme, but on a neutral background. The Triadic palette is very muted and used sparingly in this decor.
The painting on the wall combines all the colors of the palette and ties the entire scheme together in a logical way.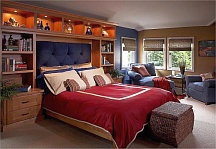 This bedroom is painted and decorated in red, blue and yellow colors. The primary colors used in this scheme can look really loud if not altered in value and intensity as described in the article "How to Choose Paint Colors Like a Pro".
But here the effect is very balanced and grounded, because even yellow is toned down to an almost brown deep gold.
Isn't it amazing how the same color combination can produce such a drastically different look?
Unlike the previous dramatic and masculine decor, this bedroom is very light and feminine. The difference is in the value or lightness of the colors used.
So, as you can see, Triad interior paint color schemes can accommodate virtually any decorating style!
See Also: